Welcome to Inner Guidance On Demand from Psychic Medium Author Ronda Del Boccio
Welcome to the wonderful world of Inner Guidance On Demand! This is your home for tapping into the truth of who you are and how you play in the world.
I'm Ronda Del Boccio, a blind woman who helps people see their truth. I shall be your guide and mentor on this journey.
A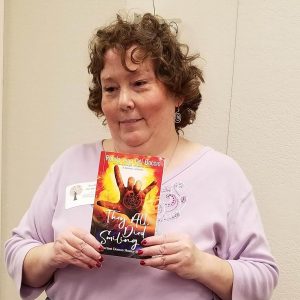 ll my life I've been freakishly different. I'm mostly blind but super observant. I have a whole bunch of what the world calls "psychic abilities: – most of them not fun. I'm an empath able to feel people's pain and see through their deceptions, an animal communicator able to talk to the animals (My parents used to call me Dr. Doolittle…they had NO idea I was really communicating with the animal's spirit), a medium able to cross spirits, a psychic knower able to know what nobody had told me, and a seer of many dimensions able to perceive beings of all sorts I'm also a shaman and a healer.
I've lived most of my life keeping my gifts mostly hidden in a society that does not value power and uniquen3ess. Now I bring nearly all of who I am into the Light. 
All are welcome here, no matter your gender, religion (or not), size, race, or walk of life. We are all ONE. It's ok to let your freak flag fly here! I cherish you! I celebrate your uniqueness.
Cheers to your B.L.I.S.S.-FULL life,
Ronda Del Boccio
#BlissfulLife #LifePurpose #WeAreOne #AllOnePeople