Read the FORBIDDEN CHAPTER of this paranormal urban fantasy novel FREE! (It's not in the book!)
The power that brought her to ruin could be their only salvation.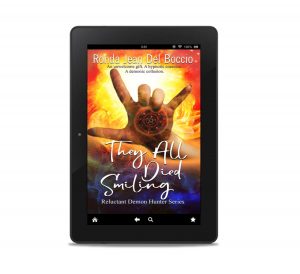 Kassidy received the most unwelcome gift. She can see demons and other harmful beings living inside people, wreaking havoc. This power ruined her life once, and she refuses to let it tear her apart again.
But covering a drowning for the Chicago Tribune rouses the professional busybody's suspicions and her gift, she is put to the test.
That expression on her face…How could a drowning victim wear a best-day-ever smile on her face…
…just like an accident victim who died months ago in another state? And is the author of a hot new self-help book responsible?
Demons are hot on Kassidy's trail. Now that they know about her power, they are determined to keep her from discovering the truth.
More women are destined to die, and Kassidy is their only hope. But if she refuses to use her despised and devastating gift, more innocent victims will die.
Claim the FREE FORBIDDEN CHAPTER of They All Died Smiling NOW to enter the adventure
They All Died Smiling is the first book in the upcoming Reluctant Demon Hunter Sagaseries, a suspenseful paranormal romance and urban fantasy saga. If you like vivid characters, spine-tingling chills, and sharp humor, then you'll love best-selling author Ronda Del Boccio's first installment in this witty and chilling supernatural adventure.
Grab your advance sneak peek of They All Died Smiling and enter a world of unseen powers and covert alliances now.
Cheers to your #BlissfulLife!
Ronda Del Boccio
#1 best selling author and speaker
Award winning author, photographer and artist
About Ronda Del Boccio
Ronda Del Boccio is an award-winning and best

selling author of both fiction and nonfiction. She has been mostly blind since birth, but she never lets that stop her doing what she wants to do. She tells transformational tales and helps visionary authors turn their dreams and imaginings into published books. See and order Ronda's books on Amazon.