Thank you for your interest in my podcasts!  My aim is always to provide value, whether that's in education, entertainment, or edu-tainment!
You can listen via your favorite podcast home, whether that's iTunes, TuneIn, Spreaker, iHeartRadio, Pandora, or whatever else I'm forgetting!

---

Low Vision Hijinx
This podcast is for people who are "low vision" – which means not quite blind, but definitely extremely visually impaired.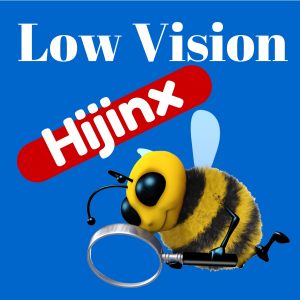 Not much eyesight – Plenty of VISION! – Visit Episodes Page.
Each week, I share a story about LIVING with low vision along with tips, tricks and hacks I myself use (or have learned from another) that make life easier.
i USED THE BEE GRAPHIC IN THIS IMAGE BECAUSE THE BUMBLEBEE ISN'T SUPPOSED TO BE ABLE TO FLY, YET IT DOES.  tHOSE OF US WITH A "DISABILITY" HAVE TO OVERCOME THE PUBLIC'S PERCEIVED LIMITATIONS EACH DAY.
cAN POOR EYESIGHT BE A CHALLENGE? absolutely! bUT FROM ME YOU GET INSPIRATION, INNOVATION, AND SPUNK!If
If you yourself are not low vision, please tell any of your mostly blind friends or family members about the show.
Magical Stories by Ronda Del Boccio
If you're an Audible fan or someone who enjoys listening as much or more than reading, you'll enjoy this opportunity to hear me read my stories. Some episodes will be "flash fiction" – very short stories. Others will be excerpts from my books, novellas, or longer short stories.
Inner Guidance on Demand
Coming soon
Paranorjmal Ponderings
Coming soon
– This show is all about the paranormasl…my experiences as a psychic medium as well as commentary on TV shows, movies, etc.