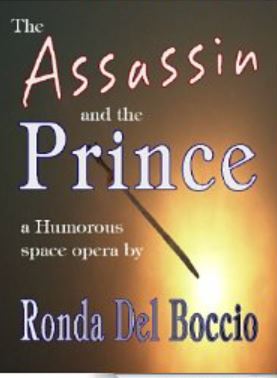 Feline assassin Aree's "cushy" new security job makes her tail twitch. She has to protect a pampered prince on vacation, and he drives her CRAZY! But as soon as they leave his sheltered homeworld, she must put all her skill to good use in order to save his life.
About the Book
fun futuristic feline-human adventure set in space!
Aree is a feisty Feline with a capital F. She is full of spunk and "cattitude"…and she's a well-trained assassin who takes on the job of protecting a pampered prince named Crispin who wants to go on vacation.
Human-Feline relations are tense at best, and Crispin puts both himself and Aree in serious danger because he won't do what she asks him to do to keep safe.
This space-opera adventure is full of fun, quirky characters, and even a few things we humans back on earth might learn from the tail…uh…tale.
This story is included in my anthology When Assassins and Allies Conspire, and it is a favorite!
About the Author:
Ever since I was a toddler, I've told stories. I made up skits and plays while playing with my stuffed animals, all with no involvement from my parents. I could entertain myself for hours! At that young age, I wanted to have a way to catch those stories and keep them in a treasure box.
As a child, I was mercilessly bullied in school for being blind and being different. How I laugh, because the "you're so weird" qualities about which kids teased me during those 12 years of torture known as school are now my livelihood. Oh how I LOVE my 2-minute commute past the coffee pot (to make a latte).
Now, I am a bestselling and award-winning author, and I have helped hundreds of authors around the world become #1 bestselling authors using simple systems for how to write a book and get published, and of course how to leverage the power of that book to live on purpose and follow your bliss. Being an author mentor and book writing coach is fun!
Writing, publishing and marketing a book need not be a form of modern torture. How often have you stared at a blinking cursor, wondering, "What do I do next?" Wonder no more! This book will show you the steps to write a book/ as effortlessly as possible!
Scroll up and grab your copy now,
No matter what you write, I can help you. My 5-part BLISS Butterfly system teaches you to write on purpose and follow your B.L.I.S.S. Connect with me on my site or through social media (as TheStoryLady) most everywhere.
Disclosure of Material Connection: Some of the links in the page above are "affiliate links." This means if you click on the link and purchase the item, I will receive an affiliate commission. I am disclosing this in accordance with the Federal Trade Commission's
16 CFR, Part 255
: "Guides Concerning the Use of Endorsements and Testimonials in Advertising."