Welcome! This is author Ronda Del Boccio.  I welcome you to connect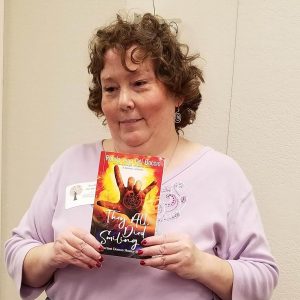 .
Contact Details
Phone 575-737-8679Facebook etc
convertkit form=889353]
Psychic Medium Author
Testimonial Line
Want to leave a testimonial?
512-827-0505 Ext 5484
Thank you SO much for helping other people by sharing your experiences working with me! 
I know it can be hard to know what to say sometimes, so here are some ideas to get you started:
"My name is ___ from (country or State/Province)"

"I (how you invested with me) took Ronda's___ class / had a Spiritual Reading or soul retrieval with Ronda / invested in Ronda as a mentor / hired Ronda as a psychic, wellness practitioner,  or animal communicator."

"I came to Ronda because I needed help with (problem/concern/situation)___."

(Speak to your experience of working with me "Ronda taught me/helped me/etc…"

"Now, I ___(experience this change in my life)___." You might also let folks know if you recommend me.
Cheers to your B.L.I.S.S.-FULL life!
Ronda Del Boccio, the Story Lady
Questions/Feedback/Help
512-827-0505 Ext 5484
Let's CONNECT on the Social Web:
Join Ronda's Readers Facebook group
Facebook
Buy Ronda's books: