BOOK SIGNING in Branson Aug 18: They All Died Smiling by Ronda Del Boccio
I will be at the quarterly conference of Ozarks Writers league Saturday, August 18 from 9 AM to 3 PM. If you'd like a copy of my new book They All Died Smiling or any of my handmade greeting cards, please come to the Cardinal Room, which is right behind the breakfast room.
This urban fantasy is now available everywhere!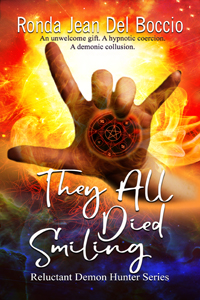 Want a sneak peek of the book? Go to WriteOnPurpose.com/read and grab yours now!
Cheers to your #BlissfulLife!
Ronda Del Boccio
#1 best selling author and speaker
Award winning author, photographer and artist
About Ronda Del Boccio
Ronda Del Boccio is an award-winning and best

selling author of both fiction and nonfiction. She has been mostly blind since birth, but she never lets that stop her doing what she wants to do. She tells transformational tales and helps visionary authors turn their dreams and imaginings into published books. See and order Ronda's books on Amazon.
Join Ronda's readers for free stories, sneak peeks at her next books and more at WriteOnPUrpose.com/read
Watch for the hashtag #BlissfulLife all over the web!