Book Review of Cozy Mystery A Lovely Murder (A Danni Deadline Thriller, Book 2) by Lori Ericson
Welcome back to another Write On Purpose book review. I share well-written books. I highlight what makes each good from the reader's perspective, and I reveal what writing skills and techniques make it an irresistible read. Thus, each review serves both writers and readers. This time, it's a cozy mystery called A Lovely Murder, by Lori Ericson.
First, here are the book details:
A Lovely Murder (A Danni Deadline Thriller, Book 2) by Lori Ericson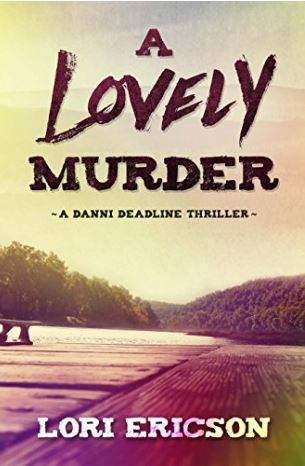 Evil tends to snatch away the best-laid plans.
Life is finally coming together for reporter Danni Edens. Her mother's mental illness seems to be under control, her career is taking off after a major setback, and she's found love.
But a mistake from her past comes back to rob her of that newly found happiness and possibly more.
As Danni struggles with the biggest loss of her life, the challenges start piling up. She fights to keep her grief at bay while searching for the killer who took her fiancé, but soon realizes the culprit wants more blood. Her vehicle is deliberately sabotaged causing a wreck that injures her best friend. Then she's accused of murder and forced to defend herself. All the while, more bodies are piling up.
How can she prove her own innocence, protect her family and friends, and rebuild her life when a killer lurks? Will she lose all she holds dear, including her dream of a happy future?
Or even her life?
My Review
Read my 5-star review on Amazon.
Here's why I gave A Lovely Murder 5 stars on Amazon and why I enjoyed it so much.
A Note about Book 1: A Lovely County
Book 1 is currently not in print, as Ms. Ericson is switching it over to the same publisher producing this book, Pen-L Publishing. You can watch for details there or on Ericson's Amazon Author Page.
Compelling Point-of-View Character, Danni
Dannie is in a deep funk as the story begins because of what happened in book 1. Even though I didn't read the first in series yet, I had no trouble picking up Danni's tale.
Now coping with the loss of her beloved fiancé, Dannie is plunged into mystery and danger. She finds her way back from grief enough to try to figure out what's going on, but she has no idea what is happening nearly up to the end. Danni is an interesting person worth being inside her head.
Good Supporting Characters
Part of what makes a good cozy/crime series interesting is a great cast of characters surrounding the hero, and A Lovely Murder has that. Danni grew up living in a graveyard. She has interesting parents and the ubiquitous wacky BFF. Various townspeople add their quirks into the mix.
And…you'll go into the mind of a villain. These scenes are particularly chilling.
Villain Sharing the Storytelling
Most of the time in cozy mysteries, the hero tells the whole story, whether from first or third-person point-of-view. In this case, the reader gets to dive into the mind of someone who is definitely up to no good..
These scenes are CREEPY, which makes for great reading. And doesn't it make you wonder what goes on in the mind of us authors when you read stuff that gives you chills?
Excellent Writing Technique
I've read platy of books that are entertaining and worth reading but fair to good in terms of writing technique. Ericson is an excellent writer. When an author uses words, punctuation, and strcture well, the reader can have an even more enjoyable experience. Ericson is one of the best writers in terms of the craft.
If you like a good crime thriller, you'll love A Lovely Murder.
Buy the Book
This book is available through various online sources or your favorite shop.
Connect with Author Lori Ericson
Please share this all over the social web!
Cheers to your #BlissfulLife!
Ronda Del Boccio
#1 best selling author and speaker
Award winning author, photographer and artist
About Ronda Del Boccio
Ronda Del Boccio is an award-winning and best

selling author of both fiction and nonfiction. She has been mostly blind since birth, but she never lets that stop her doing what she wants to do. She tells transformational tales and helps visionary authors turn their dreams and imaginings into published books. See and order Ronda's books on Amazon.
Join Ronda's readers for free stories, sneak peeks at her next books and more at WriteOnPUrpose.com/read
Watch for the hashtag #BlissfulLife all over the web!