Digital Publishing Resource Book Review: Author's Quick Guide to Making Money with Your 99 Cent Kindle Book by Kristen Eckstein
If you've perused the digital shelves of Amazon Kindle looking for advice on how to earn more as an author, you're not alone. Every author wants to earn more, because the fact of the matter is that royalties are no big whoop, even if you're selling a $20 tome.
"Authors earn more money BECAUSE they're authors than they do from actual book sales."

— Ronda Del Boccio
I have a couple books at 99c. Perhaps you do too. This little volume by Kristen Eckstein is right in line with what I teach all my mentoring students about earning money from y your books. You have to think outside the cover. So heer's my review of a helpful little book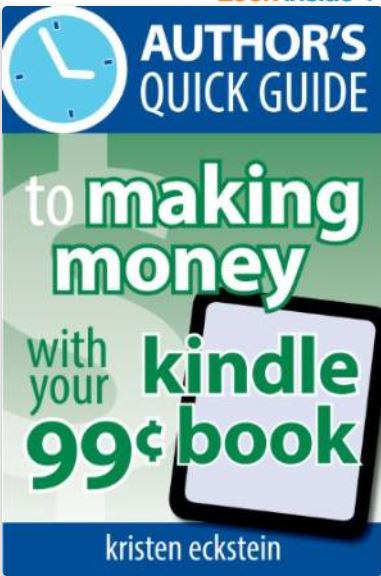 99-cent Kindle books seem to be winning the book publishing popularity contest. Every day more of them are released, flooding the market with affordable information. The key with 99-cent Kindle books is to deliver an instant solution to a relevant pain point, and to have a solid back-end in place to make your money elsewhere. This book will show you:

How to get (and keep) happy email subscribers – and build your platform
The truth about using Amazon Advantage affiliate links inside your book
A dozen products and services you can recommend in your e-book – and make money from later
How affiliate marketing works – and when it's a good fit for your book
What exactly to advertise in the back of your book and how to build a system of passive income
Exactly how each sale of one of my 99-cent Kindle books nets me a minimum of $27
And more!

Get this Author's Quick Guide today and start earning more profits for each book you sell!

See all our Author's Quick Guide Kindle books at AuthorsQuickGuide.com
Is this a worthy book for authors?Yes.
This quick guide is a crash course in building other income streams around your book. You'll learn about growing an email subscriber list, finding related products on which you can earn money (affiliate products), and how to find sponsors.
Here is part of the Table of Contents for the book: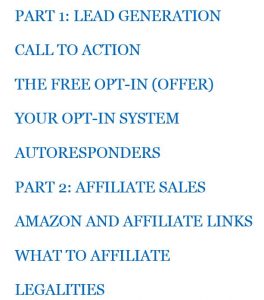 It's a mini-course in book form. While it is a high level overview, which is what one would expect from a short volume, it may be just what you need if you're beginning your journey of understanding marketing.
The tone is friendly, and Eckstein lays all the concepts out simply. We like simple!
Get your copy of the AQG to Making Money with Your 99-Cent Kindle Book now.
About Kristen Eckstein
It's been proven that entrepreneurs who become published authors get more speaking engagements, are seen as more credible, and can charge more for their services. This is why Kristen Joy has chosen to follow her passion in the world of books and publishing.
Having started over 50 publishing companies and being a self-proclaimed chocoholic, Kristen is The Book Ninja. She's a multi-book best-selling author, award-winning international speaker, regular contributor for leading industry websites like The Future of Ink and IBPA's Independent, founder of the "21 Ways" pocket guidebook series, the Author's Quick Guide series and the exclusive Kindle in 30 Challenge.
She's worked on books authored by celebrities Guy Kawasaki, Dr. Daisy Sutherland, Carrie Wilkerson, and Paul Evans and shared the stage with experts like Kim Garst, Stephanie Frank, and Bob Burg.
Introduced to books as entertainment and education since birth, Kristen read her first Nancy Drew book when she was six years old and began her professional publishing journey in 2003 when she served as Marketing Director for a vanity publishing company with a traditional arm.
In-between worldwide travel to speak at business events about writing, publishing, and book marketing, Kristen helps authorpreneurs reach their dreams and create books that bring them business.
Amazon's Kristen Eckstein Page
Please share this review all over the social web!
Follow your B.L.I.S.S.
Ronda Del Boccio
#1 best selling author, speaker, and Amazon Top Reviewer
About Ronda Del Boccio
Ronda Del Boccio is an award-winning and best
selling author of both fiction and nonfiction. She tells transformational tales and helps visionary authors turn their dreams and imaginings into published books. See and order Ronda's books on Amazon.
What you get: The Author Profit Pack and MORE, including…
7 Ways to Earn Money While Still Writing Your Book" special report and video mini-class
7 Ways to Make Your Book Irresistible" special report and video mini-cl
Invitations to FREE right-to-the-point classes on everything from book marketing to e-publishing to social media for authors.
Free weekly author success top delivered to your inbox
and more!