Book Review of Psychological Thriller In Her Shadow by August McLaughlin
Book Review: In Her Shadow, a Psychological Thriller by August McLaughlin
Welcome back to another Write On Purpose book review. Each week, I review a well-written book, highlighting what makes it good from the reader's perspective and what writing skills and techniques make it an irresistible read. Thus, each review serves both writers and readers.
This week, it's a chilling and suspenseful tale of secrets, pain and torment. In Her Shadow  is August McLaughlin's debut novel.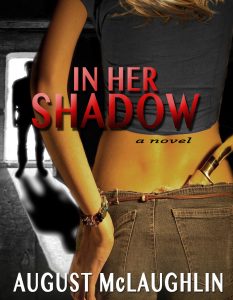 Read my 5-star review.
Here is the book description from Amazopn:
One woman locked in a basement, nearing death and longing for escape. Another baffled by the inexplicable symptoms wreaking havoc on her life. Both are lost and alone, yet somehow connected. And time is running out…

Near the tenth anniversary of her parents' unexpected death, Claire Fiksen, a lovely young Harvard-grad and gifted psychologist in Minnesota, develops bizarre symptoms of an eating disorder that threaten her fledgling career, her relationship with a handsome young medical student, her grasp on reality and, soon, her life.

When her beloved grandfather reveals that there may be more to her parents' death than she's realized, Claire's pursuit of healing becomes a desperate search for answers as she delves into her family's sordid past. Meanwhile, someone is watching her every move, plotting to draw her into her own twisted web of misery.

Claire has something he needs, and he'll stop at nothing to obtain it. Every step Claire takes brings her closer to the truth and danger. And her life, she discovers, isn't the only one at stake.
This book began its journey as a memoir but became a thriller, one of Ms. McLaughlin's favorite genres. Now, time for my review:
In Her Shadow : A  Chilling Mix of Psychology, Drama, Secrets and Torment
I love thrillers. I love suspense, so this is the type of book I would likely read whether or not I was reviewing books n Amazon or my site. Some thrillers focus more on action. Think Dan Brown's The DaVinci Code. Others center around interaction, such as this story. I wasn't surprised when I read (in the author bio on Amazon) that this book began as a memoir. A deft writer can make even the wild tale feel true, yet given the author's history,
Present Tense Potency
This book has the additional tension and immediacy of present tense. While most books are written in past tense, using present tense adds a deeper shiver to a suspenseful tale.
Powerful Beginning
The start of a book needs to grab the reader's attention. In Her Shadow does this right fro the first sentence:
She gulps the swig of poison like an eight year-old inhaling cough syrup,– nose plugged, eyes squeezed shut, her face pulled into a tight round ball.  Toxic, metallic tasting vapors trail the down her throat, filling her with venomous stench and nausea. Swallow, she instructs. Gulp. Breathe. There, that's it. She did it.
That first sentence grabbed me. You have no idea yet what's going on in specific, yet curiosity rises.
Poetic phrasing
The arrangement of words either adds or detracts from a story. Notice the impact of "tight round ball." OK, you may argue that balls are round, but "tight round ball" and "tight ball" have a different feel.
Salacious Secrets
Psychological thrillers thrive on secrets, hidden motives, and dramatic tension. That first paragraph pulls you into the first of many secrets.
Chapter two introduces you to Claire and the first of the secrets surrounding her: a birthday cake at work that none of her co-workers bought.
Throughour the book, the lives of these two women, Claire and "italics girl" weave together. I called her that because until later in the book, you don't know her name. So I won't reveal it here.
For anyone who doesn't know, point of view if the character's head in which you as the reader "reside" during a scene, story, or book. Some follow one person throughout. Here you get two women, Claire and italics girl.
You'll notice that you are so deep in the narrator's thoughts that you experience the world through her perceptions. You are one with her worldview as you read, as there is no separation between narrator and setting.
For any writer wrestling with deep point of view (aka deep pov)or simply with how to go deeper into your characters' thoughts, read this book and take note of the character development. That paragraph I shared above is an excellent example of deep pov.
Unraveling
Throughout the book you watch the two pov characters unravel bit by bit. This makes for a great psychological thriller. You won't know until far into the book who is behind it all. No spoilers here!
Claire is pretty sure she's being watched and thinks she has seen a car following her, yet her best friend thinks she's imagining it, and her confidence is thrown. The other woman fights illness and fear in an effort to maybe someday achieve her goal.
The two sink deeper and deeper into their traps. Exciting throughout the story.
Amazon Reviews Rave and Rotten
In Her Shadow has 174 reviews as of this article.
143 are 4 or 5 star, which is 84.5%
17 are 3 star, which is 9.77%
14 are 1 or 2 star, which is 8.05%
This brought up an interesting discussion among some members of Ozarks Writers League, where both August McLaughlin and I are speaking soon.
One author said she would feel awful if she got any 1 or 2 star reviews. Another said "they happen, get used to it."
Yes, sometimes they happen. Consider that 4 out of 5 people LOVE this book. Less than 1 in 10 hates it. Not bad odds! Who can expect better, honestly? Among people who read your book and don't review it, chances are that 1 in 10 or even a little more won't like it.
Irritating Italics
I do have to say one thing that drove me nuts. I hate italics. It's hard to read, and having to read it page after page is truly taxing. IT adds only confusion and eyestrain to the book.
An alternative that might also allay some of the issues reviewers have with the book would have been to label the chapters by name until the point where they are in the same place. Or just take out the italics and let it all be in normal font.
This did not stop me giving In Her Shadow a heartfelt 5 star review..
In Her Shadow fits perfectly with August McLaughlin's author platform.
Body image is a key theme in the book and in all of the author's work. This is her first novel, hopefully with more to come. Additionally, her popular Podcast and numerous articles on women's health and sensuality fill her portfolio.
As you can see, all her work harmonizes with her mission. This is a beautiful example of a well established author platform.
A strong author platform makes it easier for a writer to speak, promote  and market.
About August McLaughlin
August McLaughlin is an award-winning health and sexuality writer, radio personality and creator of the empowering female sexuality brand Girl Boner. Her work has been featured by LIVESTRONG.com, Sexual Wellness News, DAME Magazine, Healthy Aging Magazine and more. Her first novel, In Her Shadow, a thriller loosely based on her battle with anorexia while working as an international model, was an 2013 Indies for Excellence finalist, and in 2014 she was named one of BlogHer's Voices of the Year. Known for melding personal passion with activism, she uses her skills as a public speaker and journalist to inspire other women to embrace their bodies and sexuality, making way for fuller, more authentic lives.
Connect with August McLaughlin
Buy In Her Shadow
In Her Shadow  on Amazon
Read More Book Reviews by Ronda Del Boccio
Looking for more book reviews? I share insights on books in most genres. See them all in the Book Review Category
About Ronda Del Boccio
Ronda Del Boccio is an award-winning and best
selling author of both fiction and nonfiction. She tells transformational tales and helps visionary authors turn their dreams and imaginings into published books. See and order Ronda's books on Amazon.
Join Ronda's readers for free stories, sneak peeks at her next books and more at WriteOnPUrpose.com/read
[mc4wp_form]
Please share this review all over the social web!
Follow your B.L.I.S.S.
Ronda Del Boccio
#1 best selling author, speaker, and Amazon Top Reviewer
PS Want to republish this review?
I am delighted for you to repost this review on your blog or website. You are most welcome to republish this review following standards established by best practice and copyright law. This is true of any blog post, by the way.
Here are the guidelines that help you play nicely and give credit where it is due.
You must use the permalink for the specific post, which is the direct article link, also called the original article source.
You must include my byline and author information, or I shall come after you
Following these guidelines helps my website traffic as well as yours. Thank you for playing nicely.
If you are an author
Want your book reviewed?
If you are an author or publisher desiring a review, here is everything you need to know:
Each Tuesday, read a book review on WriteOnPUrpose.com. I delve deeper in these than I do for what I post on Amazon
Focusing on what makes a good read, these reviews benefit authors and readers alike. Each contains helpful hints to help authors make their books more compelling.
Before posting here, I first write a review on Amazon, and I am an Amazon Top Reviewer; read my reviews at WriteOnPurpose.com/reviews.
If you are an author or publisher wanting a book review, go to my Review Request Page at WriteOnPurpose.com/reviewrequest and complete the form.