NEW Magical Stories with Ronda Del Boccio Podcast on Apple, TuneIn, Spreaker, RadioPublic
Would you love to hear someone tell you a story? That's what I do in the Magical Stories by Ronda Del Boccio Podcast!
Consider it your story break wenever you need a brief escape!
You can expect a variety of stories, including: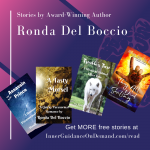 Flash fiction (VERY short stories)
Book excerpts
"Rough Reads" from works in progress
Occasional book and event updates
Whatever else seems fun at the time!
How to Listen to Magical Stories by Ronda Del Boccio
You can find the show in nearly any of te most popular latforms:
Am I Missing on Your Favorite Podcast App??
Just comment below or call +1-575-757-8679 and let me know where else YOU want me to be! I'll do my utmost to be there.
I respond personally to all communications!
Cheers to your B.L.I.S.S.-FULL Life!!
Ronda Del Boccio
Award winning author, photographer and artist
About Ronda Del Boccio
Ronda Del Boccio is an award-winning and best
selling author of both fiction and nonfiction. She has been mostly blind since birth, but she never lets that stop her doing what she wants to do. She tells transformational tales and helps visionary authors turn their dreams and imaginings into published books. See and order Ronda's books on Amazon.
Claim free stories, sneak peeks, and more at InnerGuidanceOnDemand.com/read