Book Review of The Dark Souls: The Viral Superhero Series Book 1 by Casey Lane and Bryan Cohen
Welcome back to another Write On Purpose book review. I share well-written books. I highlight what makes each good from the reader's perspective, and reveal what writing skills and techniques make it an irresistible read. Thus, each review serves both writers and readers. This time, it's a fun, action-packed thriller about a teenage nerd who suddenly becomes a superhero.
I became familiar with co-author Bryan Cohen because I took his phenomenal class. for authors. Now, let me introduce you to The Dark Souls: The Viral The Superhero Series Book 1.
The world's first superhero sensation may not live long enough to become a celebrity…

Ted Finley is your average suburban nerd, but when a group of thugs threaten to kill innocent people, something incredible happens. After he's gifted with superhuman abilities during a seemingly random brunch, Ted quickly transforms from a nobody into a viral video sensation…

Forced to navigate school and life with his newfound powers and fame proves to be difficult. But Ted's biggest challenge lies ahead, because he's not the only one with incredible abilities. Until he can sort out friend from foe, Ted may be the only person who can keep the world safe from total annihilation…

The Dark Souls is the first novel in the action-packed Viral Superhero Series. If you like fast-paced thrillers, witty heroes, and evil villains, then you'll love Bryan Cohen & Casey Lane's high-octane series!

* This book is an edited and revamped new edition of a novel that was previously published as Ted Saves the World. *

Buy The Dark Souls today to watch an ordinary teen become a superhero!
Was this book worth my time? Read on and find out!YES, absolutely! It's great fun.
I was a nerdy teenager who so often wished I could swirl around and activate my Wonder Woman powers. Ted Finley is a nerdy guy trying to navigate the horrors of high school like any other teen. He ends up with a few extra challenges…like dealing with a gang of thugs attacking the restaurant where he was eating, suddenly gaining super human abilitities, dealing with friends who weren't so friendly and foes who weren't so fiendish, and trying to save people.
Ted's new ordinary day.
Here's why this book worked fo rme as a reader.
Fun, witty dialogue
I grew up on vintage  Doctor Who (back whenthe Doctor's  dialogue was much more entertaining) and Star Wars I currently love shows sich as Lucifer. So you can guess I love witty dialogue. maybe it's also partly because I'm blind an d an author, so the wound of words and how dialogue rolls off the tongue mean a lot to me. In any case,  I really appreciate characters who talk in an engaging manner.
Superhero stories  are supposed to have some fun mixed in with thethrills and spills, and this book definitely delivers.
Plenty of thrills and action
Those of us who love superhero stories by definition love the action that goes with them. Let' just say that Ted's high school doesn't fare well in this adventure.
Characters bigger than life yet relatable
Teenage angst abounds in this book and series. Love, lust, teacher troubles, and trying to live an ordinary life while dealing with extraordinary circumstances fill the pages. The characters are ordinary people in many ways, yet at the same time, anything but average. As if being a teenager isn't hard enough!
One of the things Ted discovers is that he can fly. Sort of.
Bumpy road to super heroism
One thing readers of superhero tales enjoys is to take the journey of our budding hero as he learns how to handle his power. Ted sure doesn't have it easy. While navigating the usual trials and tribulations of high school, he's also learning the heights and limits of his burgeoning abilities.
Good pacing
The Dark Souls is well paced, with opportunites to get to know the characters a bit better sprinkled between the trills and action.
About the Authors
Bryan Cohen co-authors with himself as Casey lane for this series.
Bryan comes from  my hometown of Chicago.
Bryan Cohen is an author, a podcaster, and a coach. He's published over 40 books, which have been downloaded over half a million times. His books include How to Write a Sizzling Synopsis and five novels in The Viral Superhero Series. He's the co-host of The Sell More Books Show and the head writer at Best Page Forward, a book description writing service.
You can find out more about Bryan at http://www.bryancohen.com
Bryan is a graduate of the University of North Carolina at Chapel Hill. In 2013, Bryan appeared on an episode of the nationally televised "Who Wants to Be a Millionaire." He did just fine. Bryan lives with his wife and their Netflix account in Chicago.
Buy The Lost Souls on Amazon
While you can get the book on its own, why not grab the brand new The Viral Superhero Series Box Set Omnibus, which includes Books 1-3 of the Viral Superhero Series?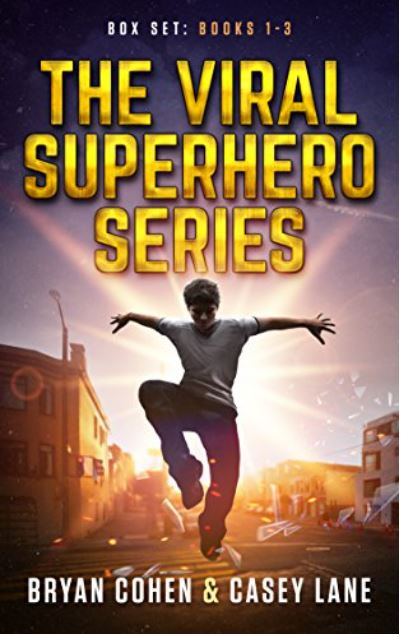 Cheers to your #BlissfulLife!
Ronda Del Boccio
#1 best selling author and speaker
Award winning author, photographer and artist
About Ronda Del Boccio
Ronda Del Boccio is an award-winning and best

selling author of both fiction and nonfiction. She has been mostly blind since birth, but she never lets that stop her doing what she wants to do. She tells transformational tales and helps visionary authors turn their dreams and imaginings into published books. See and order Ronda's books on Amazon.
Join Ronda's readers for free stories, sneak peeks at her next books and more at WriteOnPUrpose.com/read
Watch for the hashtag #BlissfulLife all over the web!