Save Your Vision Month: Best Selling Blind Author Ronda Del Boccio, Leader Dog Jemma Appearing at Lions Club Chili Supper Fundraser
March is Save Your Vision Month.  Lions Clubs around the world are well known for providing assistance to those needing eyeglasses, eye surgeries, recycling of used glasses, Leader Dogs, and much more, for over 75 years.
In order to support vision programs in the community, each year, the Lions Club of Kimberling City, Missouri, hosts a Chili Supper Fundraiser. Club members prepare and donate scrumptious vats of homemade chili and a host of decadent desserts.
All proceeds go straight back into the community. The club supports numerous charities, such as food banks, a scholarship, recycling, hearing and vision programs.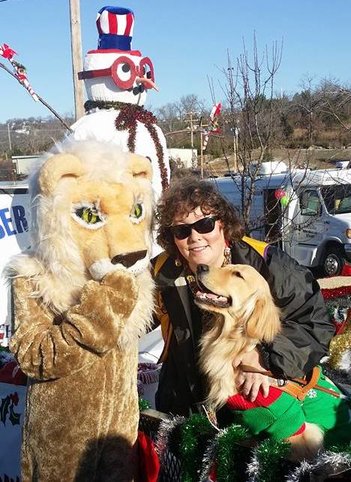 Photo Caption: The Lion Mascot beside Ronda Del Boccio and Leader Dog Jemma, who are on the Lions Club of Kimberling City float at the 2015 Kimberling City Christmas Parade.
Regarding assistance for the blind and visually impaired alone, each month, this one Lions Club collects and delivers over 100 pairs of glasses for redistribution, provides  new eyeglasses to needy community members, and supports various national and global services, including Saving Sight, Leader Dogs for the Blind, and Mid-South Vision Center (Columbia, Missouri facility). The club sponsored blind author and speaker Ronda Del Boccio to get her guide dog, Leader Dog Jemma, in 2015.
Below is a picture of Ronda and Jemma at last year's Chili Supper Fundraiser, with Jemma giving her paw.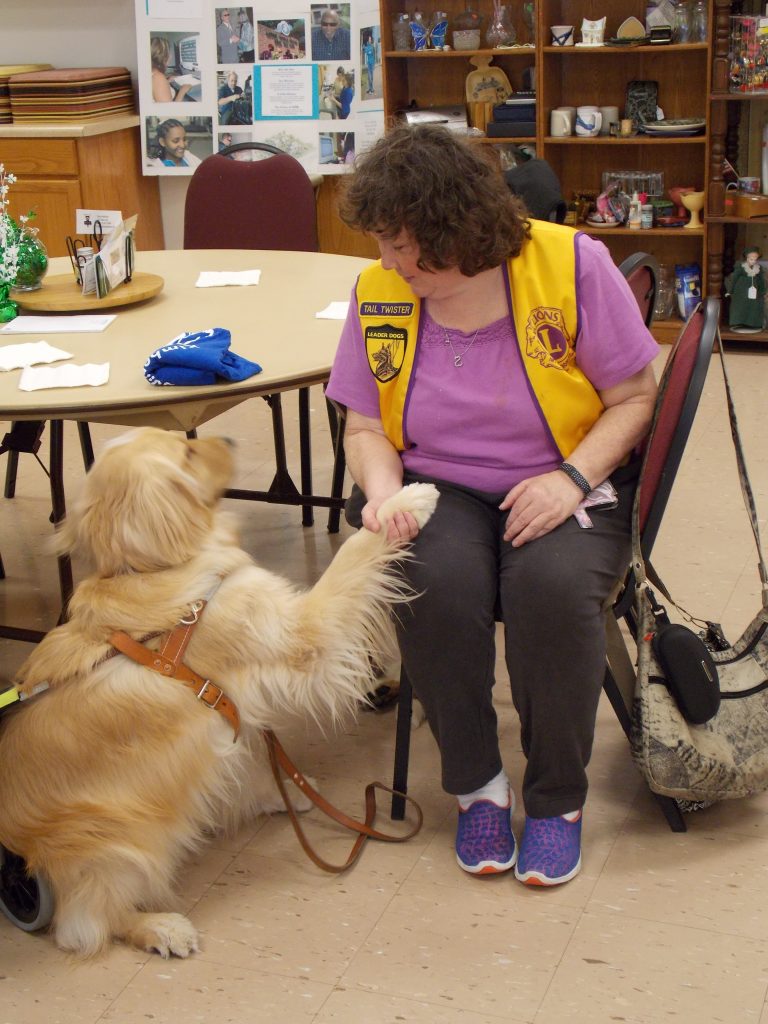 Ronda will be visiting with attendees of the Chili Supper Fundraiser and providing information and assistance to anyone needing help with eyeglasses, a guide dog, vision services, or information about other Lions Club programs.
The Chili Supper Fundraiser takes place Tuesday, March 21 from 4:30-7PM at the Kimberling Area Senior Center, which is located at 63 Kimberling Blvd in Kimberling City, MO. Donation for all the chili, hot dogs and desserts you care to eat is $7 at the door or $6 in advance from a Lions Club Member.
For more information, contact Ronda at 1-575-737-8679 or visit the Lions Club of Kimberling City at Facebook.com.KCMOLions or on their official Lions Club site at e-clubhouse.org/sites/kimberlingcity
Ronda Del Boccio is anawardwinning and  Amazon #1 bestselling author of numerous books, including The peace Seed: Personal and Global Transformation through Storytelling, The Story of Impact, Trust Your Heart, Building Relationships that Build Your Business. She is published on 5 continents, with over 3 dozen short stories, poems and articles in anthologies and periodicals. You can connect with her on her website WriteOnPurpose.com, and all over the social web, including Facebook.com/RondaDelBoccio.