Authors, Need A Shortcut? Introducing 101 Tricks & Hacks for Writers
People keep asking me for the tricks I use to get so much done.
A literary agent recently asked little ol' me for advice on how to streamline her social media.
An author asked how I get so much done.
Another asked, "You are everywhere all the time. Do you sleep?"
Thank you all, because you gave me the inspiration to write 101 Tricks and Hacks for Writers. I'm working on the book right now, and I need YOUR help.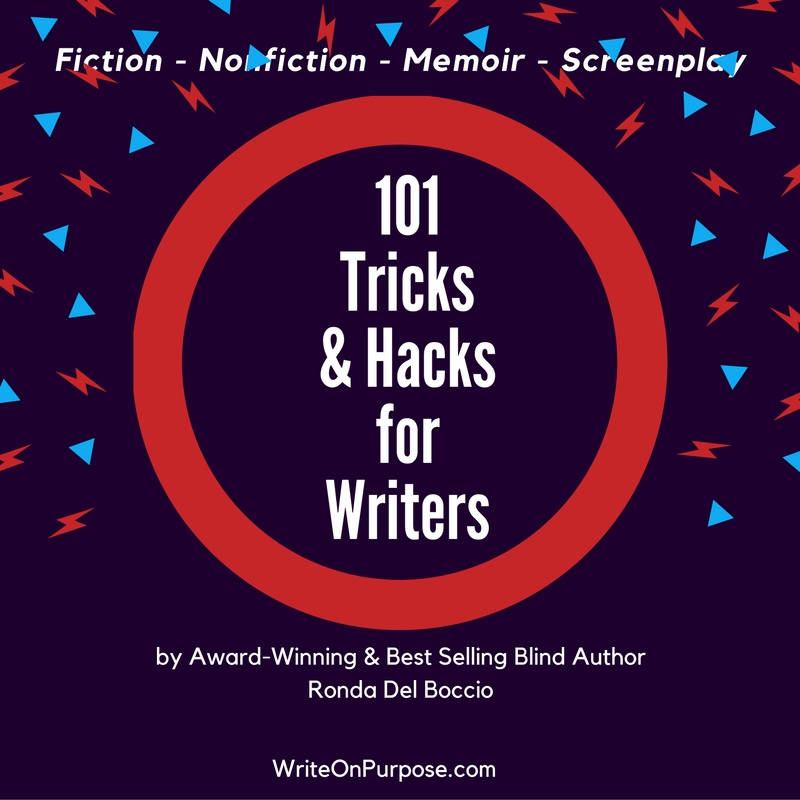 Please Tell me where you struggle so I can share the trick or hack that will make your life easier.
As a Writer, Where do you struggle?
Exasperating Editing?
Pesky punctuation?
Grammar grumbles?
Marketing misgivings?
Pinterest pains?
Facebook foibles?
Something else?
Tell me where you suffer so I can share the tricks and hacks I myself use to enjoy the fun, cool side of being a writer. I plan to finish the book by the start of fall 2016.
Thanks for helping me help you!
Please tell me what tricks or hack you desire in the comments below!
Please share this all over the social web!
Follow your B.L.I.S.S.
Ronda Del Boccio
#1 best selling author, speaker, and Amazon Top Reviewer
About Ronda Del Boccio
Ronda Del Boccio is an award-winning and best

selling author of both fiction and nonfiction. She tells transformational tales and helps visionary authors turn their dreams and imaginings into published books. See and order Ronda's books on Amazon.
PS: IF you're an AUTHOR: before you go – Join NOW for FREE Tools for Writers!
What you get: The Author Profit Pack and MORE, including…
7 Ways to Earn Money While Still Writing Your Book" special report and video mini-class
7 Ways to Make Your Book Irresistible" special report and video mini-cl
Invitations to FREE right-to-the-point classes on everything from book marketing to e-publishing to social media for authors.
Free weekly author success tip delivered to your inbox
and more!