Book Review of Science Fiction Thriller series Mind Dimensions Omnibus by Dima Zales and Anna Zaires

Welcome back to another Write On Purpose book review. I share well-written books. I highlight what makes each good from the reader's perspective, and reveal what writing skills and techniques make it an irresistible read. Thus, each review serves both writers and readers. This time, it's a science fiction thriller series called Mind Dimensions Omnibus by Dima Zales.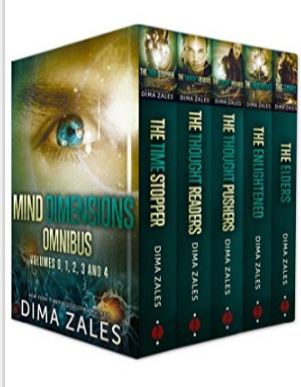 I received a free copy of the set in exchange for an honest review. I love stories about mind powers, and that's what attracted me to this set. I had not been familiar with the author before now. Before I share my truthful review, here is more about the series:
Mind Dimensions Omnibus (Volumes 0 to 4) by Dima Zales and Anna Zaires
All 5 books in the popular Mind Dimensions series from a New York Times bestselling author, available for the first time in one convenient, discounted omnibus edition. Over 1500 pages of thrilling action, adventure, and unique mind powers.

The Thought Readers (Mind Dimensions Book 1)

Darren's had it easy his whole life. Finishing Harvard at eighteen, a lucrative job on Wall Street at twenty-one—all things are possible when you can cheat by stepping outside time. Thanks to his ability, he's a know-it-all, but what he doesn't know is how he's able to do what he does.

That is, until he meets Mira and discovers her dangerous, hidden world.

The Time Stopper (A Mind Dimensions Story Prequel)

Mira can stop time, but she can't change anything. After her parents are murdered, she'll do anything to get revenge—even take on the Russian mob.

The Thought Pushers (Mind Dimensions Book 2)

Darren's life turned upside down when he met Mira. Now, as he races to uncover his own identity, he confronts new enemies—and realizes his unique powers might extend further than he ever imagined.

The Enlightened (Mind Dimensions Book 3)

Kidnapped, consciousness expanded—and that's just the start of Darren's day. As a new danger comes to light, he has one chance to save a loved one's life and avenge the wrongs of decades past.

Some crimes can never be forgiven.

The Elders (Mind Dimensions Book 4)

Darren's new powers are unpredictable, but they're precisely what he needs to save everyone he loves. The Elders can teach him what he needs to know, but their help comes at a price.

Ultimately, Darren has to make a choice.

What is he willing to sacrifice for those he loves?
What did I think of the series?I gave Mind Dimensions Omnibus a 5 star review.
Science Fiction: Idea Books VS Character Books
Painting this with a broad brush, science fiction stories tend to be either character driven or idea driven. Here, you have a little of both, not one or the other. The scientific idea behind the series has to do with theories of time, chaos and possibility. Add to that the thriller flavor of bigger-than-life protagonist and other interesting characters who have fully developed histories.
Excellent World Building
Every book is its own world, and in realms of science fiction, fantasy, and paranormal powers, it's even more so. Why? Because the reader is carried outside reality into another world. The rules of this world have to make sense within its context. Zaires and Zales crafted a world in which some people have special mind powers. Each classification of ability is well thought out.
Lots of Action + Food for Thought
Action adventures and thrillers are fun. I like them in my literary mix. I also enjoy when a book with chases, secrets and death threats also gives the reader something to ponder. Numerous ethical issues arose as I watched Darren, Mira and the others navigate their lives.
Interesting Mind Powers
You'll encounter some new terms and ideas in the Volume 0 prequel, The Time Stopper, as will protagonist Darren. Asked whether he is a reader or a pusher, he doesn't know how to answer.  Along the way, you'll find out what makes someone Enlightened in this worldview and meet other powers.
Advantaged-Disadvantaged
Hot-shot Darren, who finds himself thrown into a whole new world when he meets someone else who seems to share his powers, is in some ways at a disadvantage. He was never trained how to use his abilities. Yet in some ways, this is a huge advantage for him, because he never learned the limits that supposedly come with his Mind Dimension powers. I enjoy stories that play with polarities in this way.
Buy the Series
Dima Zales' books are available all over.
Get the Mind Dimensions Omnibus set.
If you want to start with the prequel, get The Time Stopper.
About Dima Zales
If you'd like to know when the next book comes out, please sign up for Dima's newsletter at www.dimazales.com.
Dima Zales is a New York Times and USA Today bestselling author of science fiction and fantasy. Prior to becoming a writer, he worked in the software development industry in New York as both a programmer and an executive. From high-frequency trading software for big banks to mobile apps for popular magazines, Dima has done it all. In 2013, he left the software industry in order to concentrate on his writing career and moved to Palm Coast, Florida, where he currently resides.
Dima holds a Master's degree in Computer Science from NYU and a dual undergraduate degree in Computer Science / Psychology from Brooklyn College. He also has a number of hobbies and interests, the most unusual of which might be professional-level mentalism. He simulates mind reading on stage and close-up, and has done shows for corporations, wealthy individuals, and friends.
He is also into healthy eating and fitness, so he should live long enough to finish all the book projects he starts. In fact, he very much hopes to catch the technological advancements that might let him live forever (biologically or otherwise). Aside from that, he also enjoys learning about current and future technologies that might enhance our lives, including artificial intelligence, biofeedback, brain-to-computer interfaces, and brain-enhancing implants.
In addition to writing The Sorcery Code series and Mind Dimensions series, Dima has collaborated on a number of romance novels with his wife, Anna Zaires. The Krinar Chronicles, an erotic science fiction series, is an international bestseller and has been recognized by the likes of Marie Claire and Woman's Day. If you like erotic romance with a unique plot, please feel free to check it out, especially since the first book in the series (Close Liaisons) is available for free everywhere.
Connect with Dima Zales
About Anna Zaires
Anna Zaires is a New York Times, USA Today, and international bestselling author of contemporary dark erotic romance and sci-fi romance. She fell in love with books at the age of five, when her grandmother taught her to read. Since then, she has always lived partially in a fantasy world where the only limits were those of her imagination. Currently residing in Florida, Anna is happily married to Dima Zales (a science fiction and fantasy author) and closely collaborates with him on all their works.
After graduating from the University of Chicago with a degree in Economics, Anna spent eight years on Wall Street analyzing stocks and writing research reports. In 2013, she became a full-time author, pursuing her lifelong dream of writing romance novels.
Dima Zales is the love of her life and a huge inspiration in all aspects of her writing. Every book Anna writes is a product of their unique collaborative process.
In addition to reading and writing, Anna enjoys drinking tea (coconut oolong, anyone?), watching addictive TV shows, and discussing book ideas during long walks with her amazing husband.
She loves hearing from her readers, so please don't hesitate to drop her a note through her website or connect with her on Facebook, where she hangs out way too often. Also, please visit her husband and collaborator, Dima Zales, at www.dimazales.com, and check out their fantasy & science fiction books.
Connect with Anna Zaires
Please share this all over the social web!
Follow your B.L.I.S.S.
Ronda Del Boccio
#1 best selling author, speaker, and Amazon Top Reviewer
About Ronda Del Boccio
Ronda Del Boccio is an award-winning and best

selling author of both fiction and nonfiction. She tells transformational tales and helps visionary authors turn their dreams and imaginings into published books. See and order Ronda's books on Amazon.
Join Ronda's readers for free stories, sneak peeks at her next books and more at WriteOnPUrpose.com/read
[mc4wp_form]