Book Review of Moonlight A Fairytale Retelling by Ann Hunter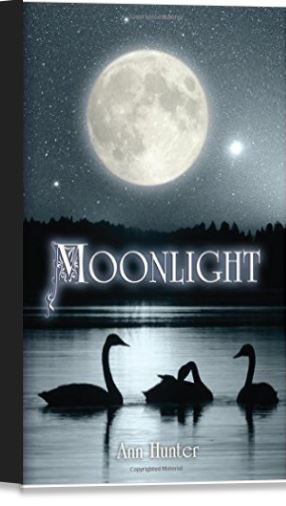 Welcome back to another Write On Purpose book review. I review  well-written books, highlighting what makes each good from the reader's perspective and what writing skills and techniques make it an irresistible read. Thus, each review serves both writers and readers.
Last week, I reviewed The Subtle Beauty by Ann Hunter. This week I'm reviewing a prequel novella in the Crowns of the Twelve series called Moonlight. As before, I received a free Kindle copy of the book in exchange for my honest book review on several social networks and my site.
Moonlight is a retelling of the swan princess fairy tale. Here is he info from Amazon:
Moonlight (Crowns of the Twelve  #1) by Ann Hunter
"My most beloved brothers, and father, With Mother's death and the threat of Ciatlllait's dark powers looming, I am not sure I am strong enough to save you. But I will try. War is coming. I am just one girl. I feel so small, but I will try to draw strength from Mother's final words: You are never alone." –Aowyn One vow. One curse. One thousand moons. While Princess Aowyn's six brothers are favored by their father, Aowyn is the jewel in her mother's crown. When the Queen dies, Aowyn takes a vow to protect her brothers and father from the hungry eyes of the queen's handmaiden, Ciatlllait – who is more than she seems. In order to save her family, Aowyn risks a dangerous deal with the dark creature Sylas Mortas. But magic comes with a price: and Aowyn soon realizes the one she has paid is too steep. Only true love can reverse the spell…but it will take one thousand moons. Set in a Celtic world, "Moonlight" is the story of faith and true love woven through a breathtaking retelling of the classic folktale "The Swan Princess"
How did I like this one?I found the characters to be more fully fleshed out for the most part. Xander became a whole person, not the 1D character he became in The Subtle Beauty. Aowyn showed various sides of herself as well. She only had a short part in Beauty.
I would love for Hunter to give her antagonists more substance so they're not just purely nasty baddies. But this book held my interest and kept me wanting more.
This book very much involved me in the world and its people, as an enjoyable read will. No gruesomeness this time either. Whew!
So if you are a fan of shows like Once Upon a Time, you'll enjoy this series and this particular volume.
About Ann Hunter
Please share this all over the social web!
Follow your B.L.I.S.S.
Ronda Del Boccio
#1 best selling author, speaker, and Amazon Top Reviewer
About Ronda Del Boccio
Ronda Del Boccio is an award-winning and best

selling author of both fiction and nonfiction. She tells transformational tales and helps visionary authors turn their dreams and imaginings into published books. See and order Ronda's books on Amazon.
Join Ronda's readers for free stories, sneak peeks at her next books and more at WriteOnPUrpose.com/read
[mc4wp_form]