Book Review of Humorous Paranormal Dog Tale Twilight Bone byDevin O'Branagan
Welcome back to another Write On Purpose book review. Each week, I review a well-written book, highlighting what makes it good from the reader's perspective and what writing skills and techniques make it an irresistible read. Thus, each review serves both writers and readers.
This week, I'm reviewing a fun and touching book told from the point of view of show dog Tally. This book has certainly gone to the dogs. O'Branagan anthropomorphizes dogs, and I often don't like when authors do that. You'll find out if this is an exception shortly. Here is the description: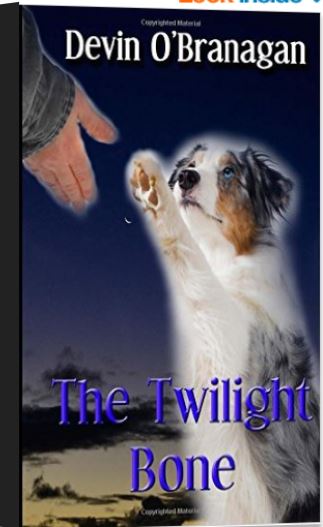 In this tale of the paranormal, Talisman the Australian Shepherd is a feisty, young show dog with psychic gifts who is called upon to ghostbust at a prestigious dog show. Tali's companions include her neurotic sisters, the hilarious spirit of Mae West, a hyper, freestyle-dancing Border Collie, and her heart person Valentino DeMitri–who has just found his own heart person. In this humorous novella, Tali must deal with star-crossed love and a terrifying ghost haunting the dog show she is attending. Can her innate ghostbusting abilities save the day? Funny and exciting, touching and inspiring, The Twilight Bone is a chewy treat for humans of all ages!
What makes this book a worthy read?Positive Message
What is it about the plethora of  shows and books that are so darned intense and edgy? Twilight Bone is sweet. There is definitely conflict and tension, but it's not gory, life-threatening and dark. It's an uplifting book about the power of love that lasts beyond death.
Interesting Canine Characters with Strengths and Flaws
I like that the leading dog Tally can find the best in her canine friends while having a hard time accepting a new human handler. She is flawed. She has a vain streak. AND at the same time, she can help her canine friends realize their value.
You'll meet one dog who seems to be afraid of almost everything, one who's a good dancer, and a stadium full of dogs who come together to overcome a menacing spirit.
I mentioned earlier that I don't often like books from an animal's point of view. Some people do truly strange things that do not follow the true nature of their animal hero. Dogs are dogs. They have tendencies and personalities. A border collie acts much differently from a golden retriever. O'Branagan demonstrates an understanding of canine nature as she gives each dog his or her own personality. that's why the Show Dog Diaries series works for me.
About #1 Best Selling Author Devin O'Branagan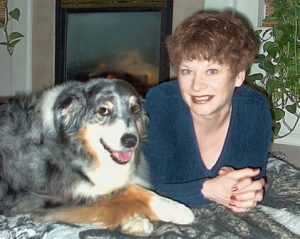 Bestselling author Devin O'Branagan writes novels about uncommon heroes. Her genres include young adult urban fantasy, paranormal romance, paranormal thrillers, and romantic comedy. She's been published by Simon & Schuster's Pocket Books, German publisher Heyne Verlag, Turkish publisher Dogan Egmont, and indie publisher Cornucopia Creations. Her books are available in print, eBook, and audio book formats.
Connect with Devin
Buy Twilight Bone
Order from Amazon – print, ebook, or audio
Please share this all over the social web!
Follow your B.L.I.S.S.
Ronda Del Boccio
#1 best selling author, speaker, and Amazon Top Reviewer
About Ronda Del Boccio
Ronda Del Boccio is an award-winning and best
selling author of both fiction and nonfiction. She tells transformational tales and helps visionary authors turn their dreams and imaginings into published books. See and order Ronda's books on Amazon.
Join Ronda's readers for free stories, sneak peeks at her next books and more at WriteOnPUrpose.com/read
[mc4wp_form]