Book Review of Cozy Mystery Melody for Murder: A Bertie Bigelow Mystery by Carolyn Marie Wilkins
Welcome back to another Write On Purpose book review. Each week, I review a well-written book, highlighting what makes it good from the reader's perspective and what writing skills and techniques make it an irresistible read. Thus, each review serves both writers and readers.
This week, it's a cozy mystery called Melody for Murder. College professor Bertie Bigelow thinks her biggest problem is her job being on the line when one of her students goes off the rails at a live performance. She soon finds herself accused of murder and in deeper danger than she ca imagine.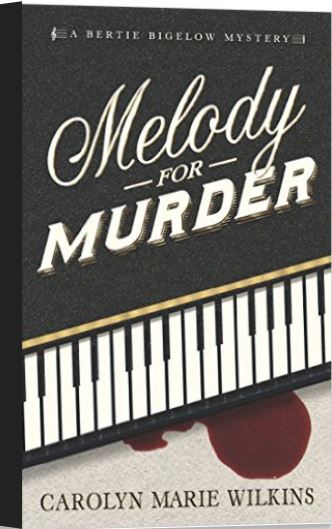 Book Description
On the South Side of Chicago, one SOUR note can lead to MURDER. When recently-widowed college choir director Bertie Bigelow reluctantly accepts a New Year's date with Judge Theophilous Green, she never imagines the esteemed civil rights pioneer and inveterate snob will be found shot to death the next morning. She's even more surprised when her talented but troubled student LaShawn Thomas is arrested for the crime. But Bertie suspects that someone in her tight-knit social circle is really the killer. Is it hot-tempered Patrice Soule, the voluptuous diva and recent winner of the Illinois Idol contest? Is it Charley Howard, the BBQ Hot Sauce King, a self-made millionaire with Mafia connections? Is it the mysterious Dr. Momolu Taylor? Newly arrived from Africa, he's invented a hot new sex drug that's got some powerful politicians feeling frisky. Or could it be Alderman "Steady Freddy" Clark, corrupt South Side ward boss and would-be patron of the arts? One thing is certain: Bertie Bigelow will need to keep her wits about her to avoid becoming the killer's next victim.
What makes this book a great read in my opinion?
I gave Melody for Murder a 5-star review on Amazon. Read it here.
Memorable Characters
Cozy mysteries need a memorable cast of characters, and Melody for Murder definitely has one.
Bertie Bigelow, our amateur sleuth, is a widow who ends up sticking her nose where it doesn't belong, according to both the bad guys and the police. She is a college teacher who is trying to find her way in life 9 months after the death of her beloved husband. She has interesting perspectives and a strong desire for justice. Definitely interesting. Having an amateur detective you care about is essential in a cozy series.
Ellen is the friend and confidant, key component in any cozy. She cracks me up with her dramatic love life and fierce loyalty to Bertie.
The Hot Sauce King is as fiery tempered as his condiment is spicy. He and Bertie get into a fight when she accuses him of murder. He threatens a libel lawsuit. Oh, Bertie!
A temperamental diva, a gifted kid who may be making questionable decisions, a smarmy judge and a peddler of natural remedies also people Bertie's world and make an engaging cast.
Intrigue
Did the inner-city youth lose his way and join a gang? Did the Hot Sauce King commit murder? And what about that purveyor of a male enhancement drug as well as stimulants that could rob a singer of her promising career?
And does Bertie's married lawyer friend have the hots for her? There is plenty of suspicion to go around for Bertie. Her job could come to an ignominious end because of what her star student did at the recital, then her reputation is on the line when she is accused of committing murder.
All the way through the book, I looked forward to my nightly reading time so I could find out what trouble Bertie would find herself in next.
I read a lot of cizies, and so many of them have an all or mostly Caucasian cast. Melody for Murder breaks this typical format.
About Author Carolyn Marie Wilkins
---

Carolyn Wilkins is a Professor of Ensembles at Berklee College of Music and the author of They Raised Me Up: A Black Single Mother and the Women Who Inspired Her, Damn Near White: An African American Family's Rise from Slavery to Bittersweet Success, and Tips For Singers: Performing, Auditioning, Rehearsing.
An accomplished jazz pianist, composer and vocalist, Carolyn's performance experience includes radio and television appearances with her group SpiritJazz, a concert tour of South America as a Jazz Ambassador for the US State Department, performances with the Pittsburgh Symphony as a percussionist under Andre Previn, and shows featuring Melba Moore, Nancy Wilson and the Fifth Dimension. Born and raised on the South Side of Chicago, Carolyn now lives in Cambridge, MA
Visit Amazon's Carolyn Marie Wilkins Author Page
Visit the Carolyn Wilkins Author Facebook Page
Buy Melody for Murder
BUy from Pen-L Publishing
Please share this all over the social web!
Follow your B.L.I.S.S.
Ronda Del Boccio
#1 best selling author, speaker, and Amazon Top Reviewer
About Ronda Del Boccio
Ronda Del Boccio is an award-winning and best
selling author of both fiction and nonfiction. She tells transformational tales and helps visionary authors turn their dreams and imaginings into published books. See and order Ronda's books on Amazon.
Join Ronda's readers for free stories, sneak peeks at her next books and more at WriteOnPUrpose.com/read
[mc4wp_form]