Writing Skills Book Review of Creative Characterization by Jan Morrill
Having taken Jan Morrill's live workshop on creative characterization, I was thrilled when I saw the announcement that she had made a print (and Kindle) workbook to accompany it.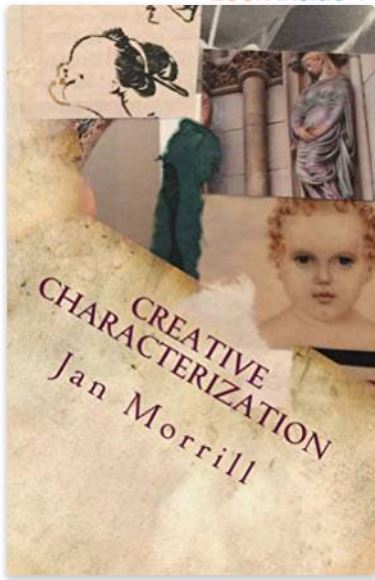 In Creative Characterization, award-winning author Jan Morrill discusses six different methods she uses to develop characters such as those in her historical fiction, The Red Kimono:

• Interviewing
• Describing Photos and Paintings
• Writing Letters
• Writing in a Different Point of View
• Accessing Character's Inner Child
• Internalization

The exercises in this workbook will help develop characters, and may even lead to a bit of self-discovery along the way!
Do I find this book helpful for me as a fiction writer?
This book is essentially a workbook to accompany her presentation on the topic, great for back of the room sales. However, it stands alone perfectly well. I used some of the techniques in this workbook during NaNoWriMo 2014 when I wrote the first draft of They All Died Smiling and for other writing projects, both short and long..
The tools in this book work well whether you're writing a short story or a novel, because the help develop insight into the characters.
Here is what floated to the surface when I used a couple sample exercises from the book.
"Write a letter from one character to another."
You'll be amazed what insights arise when you allow your subconscious reveal the depth of your characters.  Since there is so much emotional charge between mm heroine Kassidy and her father. I decided to let her write a letter to  him. She hasn't seen him in well over a decade.
Background – Kassidy's letter to her estranged Pa
To give a little background, Kassidy is writing the letter to her Pa, who sent her away as a young child, saying he was demon possessed. Yes, lots of pain there..
Randy is her husband who died in the war in Afghanistan. Russ is a friend who becomes a possible love interest in the book.
Randy and I started dating in high school. I think Russ wished I'd have gone out with him. I liked him a lot, but Randy and I were like peas in a pod. He asked me to the school dance. We used to get an ice cream on Saturdays and sit at the picnic bench watching the sun set.

Yeah, we were high school sweethearts. He gave me a promise ring.

It was real cute what happened Before Randy gave me the promise ring, he came over to my house and went to Aunt Beck. He acted all jittery and strange, not at all like his usual self I didn't know what was up. I wanted to hear, so while he was in the kitchen talking with her, I went around back and held a glass to the back door. Who's the spy now?

He told her he wanted to give me a promise ring and to make me his wife when we were both old enough. I was so excited and startled I dropped the glass. It broke on the porch, I didn't want to get caught. No critters to rustle up into making noise. Beck opened the door and I said I had tripped on the steps and dropped my lemonade. Good thing that's what had been in the glass before I used it for surveillance.

We thought we'd be one of those couples who celebrates 60 or more years and grow old together, but it wasn't to be.
I did not know about the ring until Kassidy wrote that letter to her Pa. As I crafted my first draft and filled in more later, this exercise is one of the reasons I know Kassidy so well. The promise ring story will not be in the book, but it could become a short story or it may appear in a future book in the series.
"Interview Your Character"
Russell is Kassidy's childhood friend. They meet "by chance" in Chicago where he works for the FBI and she as a writer. Here is a portion of the interview.
Here we are in a trendy Chicago coffee shop. Russell orders a double shot espresso and a cronut. He has forsaken his FBI black suit for designer jeans and a sweater suited to the cold November weather, showing off his well-toned physique.Russ always wants to be on the cutting edge, whereas Kassidy cares nothing about being trendy.
"Russ, you look happy here."
"Yes. I've always wanted to live in the city." His boyish smile gives him dimples. He leans back, sips his espresso and looks around the room like king of the castle. "I didn't like living in the middle of nowhere."
"Tell me about Kassidy. You grew up together, didn't you?"
His pulse quickens. "We were neighbors when she and her family moved into town."
"Did you know her before she move to town?"
"Yes. My mom and her aunt were best friends. Mom took us out to the country, to Beck and Walt's farm."
"Did you like Kassidy right away?"
Russ laughs. "Depended on the day. I liked her as well as any boy can like a girl. She was bossy at times, but she had a lot of work to do around the farm, plus she cooked for the family."
"How did she boss you?"
"That's probably not fair. She got mad at me for tramping mud into the kitchen, and she kicked me out of there when I knocked apples all over the floor. Can't really blame her." He sips his coffee, rests hand on chin. "She worked awfully hard."
"Did you date her?"
He stares out the window for a moment. "Kinda. Not really. Our group hung out. She dated Randy and they were a thing. He gave her a promise ring when she was a junior and he was a senior in high school. I never really had a chance with her."
"But you wanted to."
"Yeah." He looks at me then away. "
I didn't know Russ had a crush on her and always wished she had dated him back in high school until this interview.
What I wish were in  Creative Characterization
1. Spiral binding.
While this isn't a big deal, it's difficult to write in a book that doesn't lie flat. Morrill includes lines in the book so you can write in it.  I would prefer a spiral binding.
For me as a mostly blind person,  it's easier to type, but it is true that writing by hand taps a different part of the brain and is better for most people.
I also understand that Morrill used Amazon's CreateSpace to publish, and they do not make spiral binding an option. Lulu does, in case you are seeking a better workbook format.
2. Examples from workshop students
It would also add huge credibility as well as keen interest to include examples from successfully published who used her characterization methods and found it helpful in writing their books. I know that many authors, including myself, have benefited from these exercises.
What I Love about Creative Characterization
1. Short and sweet
I appreciate that this book gets right to the point without fluff.
2. Brief examples of the exercises from Morrill
it's useful as well as interesting to read the revelations from Morrill herself using the activities to help her write The Red Kimono. She also gives links to see the full versions of these excerpts on her blog.
3. Simple, clear instructions.
You won't read the instructions and ask yourself what you're really supposed to do.
4. Simple yet powerful exercises.
Don't let the evident simplicity of the exercises fool you. Doing them will provide a wealth of information you provably never knew about your characters.
The more you know about the characters in your book, the better you can write them. Dialogue will probably come more easily as well.
I gave Creative Characterization a 5 star review on Amazon. Read it here.
Get your copy of Creative Characterization.
I read and reviewed her bookThe Red Kimono. Read it h.
 Jan Morrill's debut novel, THE RED KIMONO, was released by the University of Arkansas Press in February, 2013.
Jan was born and (mostly) raised in California. Her mother, a Buddhist Japanese American, was an internee during World War II. Her father, a Southern Baptist redhead of Irish descent, retired from the Air Force. The Red Kimono, as well as many of her short stories, reflects memories of growing up in a multicultural, multi-religious, multi-political environment.
Her award-winning short stories and memoir essays have been published in Chicken Soup for the Soul books and several anthologies. An artist as well as a writer, she is currently working on the sequel to The Red Kimono.
For more information, visit her website at .janmorrill.com or her blogs www.TheRedKimono.com or HaikubyHaiku.wordpress.com.
Connect with Jan Morrill
Please share this review all over the social web!
Follow your B.L.I.S.S.
Ronda Del Boccio
#1 best selling author, speaker, and Amazon Top Reviewer
Read More Book Reviews by Ronda Del Boccio
Looking for more book reviews? I share insights on books in most genres. See them all in the Book Review Category
About Ronda Del Boccio
Ronda Del Boccio is an award-winning and best
selling author of both fiction and nonfiction. She tells transformational tales and helps visionary authors turn their dreams and imaginings into published books. See and order Ronda's books on Amazon.
Join Ronda's readers for free stories, sneak peeks at her next books and more at WriteOnPUrpose.com/read
What you get: The Author Profit Pack and MORE, including…
7 Ways to Earn Money While Still Writing Your Book" special report and video mini-class
7 Ways to Make Your Book Irresistible" special report and video mini-cl
Invitations to FREE right-to-the-point classes on everything from book marketing to e-publishing to social media for authors.
Free weekly author success top delivered to your inbox
and more!