Book Marketing Skills Book Review: Social Media Just for Writers by Frances Caballo
I encountered author and social media Frances Caballo through her podcast of the same name. It's short, useful, and straight to the point. Based on that, I hadhigh expectations of her book. I'm happy to report that she did not disappoint. I'd recommend listening to it. Here's the link.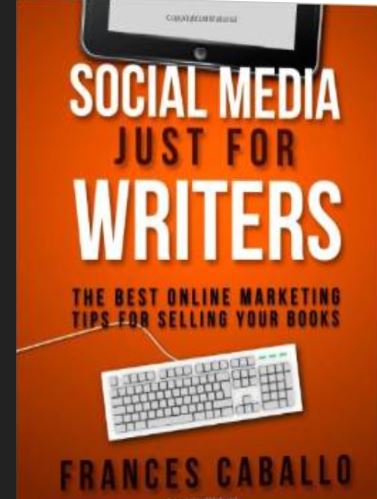 Warning – this book COULD overwhelm you. It's not one of those how-to books  you'll want to read cover to cover. There is a LOT of info. It's like the writer's social media desk reference, teaching the networks, tools and helpful hints and tricks to master them.
With a table of contents several pages long, this will no doubt be clear to you right away. But fear not, because each chapter is broken down into nice "bite-sized" pieces.
The only thing I worry about with this book is that you'll be so inundated with the various tools, planners etc that you throw your hands up in the air and stick your head in the sand.
That said, it's an essential reference. You'll get not merely an overview of the various social networks and the tools to manage them, but  guidance on how to make the most of all of it. Nobody can predict which tools YOU will prefer, but with the listing and descriptions, you can check things out and make your best decisions.
Don't try to be in all networks. Pick one and get used to it, then branch out from there.
 Buy Social Media Just for Writers on Amazon
Frances Caballo's website – SocialMediaJustForWriters.com
Frances Caballo on Twitter – @CaballoFrances
Please share this all over the social web!
Follow your B.L.I.S.S.
Ronda Del Boccio
#1 best selling author, speaker, and Amazon Top Reviewer
About Ronda Del Boccio
Ronda Del Boccio is an award-winning and best
selling author of both fiction and nonfiction. She tells transformational tales and helps visionary authors turn their dreams and imaginings into published books. See and order Ronda's books on Amazon.
What you get: The Author Profit Pack and MORE, including…
7 Ways to Earn Money While Still Writing Your Book" special report and video mini-class
7 Ways to Make Your Book Irresistible" special report and video mini-cl
Invitations to FREE right-to-the-point classes on everything from book marketing to e-publishing to social media for authors.
Free weekly author success top delivered to your inbox
and more!