Book Review of Psychological Medical Thriller Depraved by Woody P. Snow
Welcome back to another Write On Purpose book review. Each week, I review a well-written book, highlighting what makes it good from the reader's perspective and what writing skills and techniques make it an irresistible read. Thus, each review serves both writers and readers.
This time it's a chilling psychological thriller called Depraved by Woody P. Snow. And I have to warn you this book is not for the faint of heart or the seuqamish.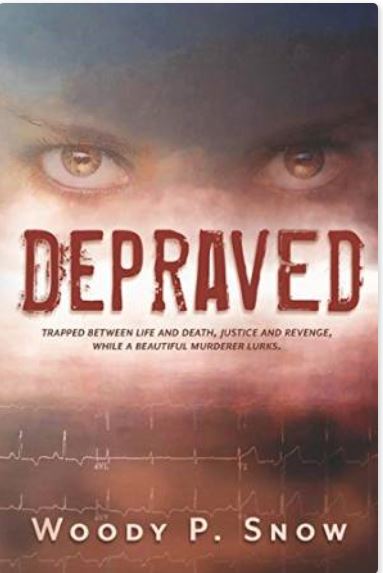 Trapped between life and death while a murderer lurks, only thoughts of revenge keep him alive.

Trapped between life and death, justice and revenge,
while a beautiful murderer lurks.

Evil disguises itself behind a mask of beauty in DEPRAVED. Finley Bliss must survive a shocking betrayal by his stunning, murderous wife Eva. Stranded in a coma and warehoused in a squalid nursing home, Finley must cross back over the mystical river of life to consciousness, so he can reveal the truth, exact justice and seek revenge . . . but how? Ruthless Eva has legal and medical protocols on her side — the authority to pull the plug to end his life support. Finley's only chance is a mysterious being he calls James Earl Jones who appears by the river to give him counsel.
Depraved is an insightful, genre-bending thriller — a gripping mystery and a compelling love story, from the beginning to the surprise ending.
Now, did I find Depraved to be a worthy read?
I have to say at first I did not enjoy the book at all, well written though it is. I get seriously creeped out when there's anything about bondage, and our first point of view character Finley Bliss finds himself cuffed to a bed. I put the book down for some weeks and then skipped ahead some. I don't read to be freaked out.
But the book is 360 pages long, and jumping ahead for me was a good idea. Snow may be seriously sick and twisted, but he's a good writer. I ultimately gave the book a 5 star review on Amazon.
Drifting Consciousness
SNow does an amazing job handling Finley's drift of consciousness between wakefulness, coma and near death. This can come across as hokey or ridiculous with a less gifted author, but Snow handles what Finley experiences in a way that feels absolutely real.
The mind is a tricky thing, and under the influence of drugs, at the cusp of death, it creates its own realities. I love how Snow handled this.
Chilling Characters
Bliss's wife calls him the most boring man in the world.  Geez, how unkind! He definitely suffers a sick betrayal by her hand. Some people just leave and take up with another lover, but not her! She definitely puts him through hell. You'll meet some unsavory people who help her torture her husband.
You'll also met a detective determined to get to the bottom of things, and a couple other allies.
But what becomes of a man who suffers such agonizing, lethal betrayal? "Boring" Finley becomes a very different person as the book progresses. He doesn't just want to reveal the truth. He goes for full on vengeance.
The 7 Deadly Sins
You'll experience most of the big 7 in Depraved. So many motivations mingle and grapple in this gripping tale.
Deep Issues
One aspect of the book I truly loved was the deep consideration of consciousness and all the medical and moral issues around whether someone is a viable human being. Depraved covers these issues from he perspective of various characters, and it makes the book all that much more compelling to me.
More Twists than a Roller Coaster.
If you like plot twists, surprises, and thought-provoking stories, this book will definitely thrill you.
All I can say is…since he made up characters and a story like this…don't get on Woody P. Snow's bad side!
 About Woody P. Snow
| | |
| --- | --- |
| | Woody P. Snow, radio personality and award-winning author of The Boy Who Stole the Moon and Blood Silver, has been intrigued by the stories of recovered coma patients of their experiences while seemingly unconscious. He writes books and songs, paints and researches in the Missouri Ozarks. |
Please share this review all over the social web!
Follow your B.L.I.S.S.
Ronda Del Boccio
#1 best selling author, speaker, and Amazon Top Reviewer
About Ronda Del Boccio
Ronda Del Boccio is an award-winning and best
selling author of both fiction and nonfiction. She tells transformational tales and helps visionary authors turn their dreams and imaginings into published books. See and order Ronda's books on Amazon.
Join Ronda's readers for free stories, sneak peeks at her next books and more at WriteOnPUrpose.com/read
[mc4wp_form]