Writing Skills Book Review: Writing the Cozy Mystery by Nancy J. Cohen
Some writer friends and I had a rousing discussion about whether our work in progress books were cozy mysteries or not.
A cozy mystery has a dead body or two, but not a lot of gore. The reader can cozy up with a good book by the fire, under a blanket, and have a good story without being terrified or having a lesson in forensics. An amateur sleuth gets involved trying to solve the riddle of "whodunit."
I go into more detail about it in this article.
Hannah Swensen (Murder She Baked) series and the Cat Who series are examples of cozies. I like them, because I'm not a big fan of true crime.
So I was thrilled to find this book,
I've read cozies of all sorts, from paranormal to historical, shopaholic to inept bounty hunter, and I may end up writing a series of my own.
This book is well organized and cuts right to the chase. I'd rather have 49 pages that get right to the point than wade through 250 looking for useful hints. Have a look at the table of contents: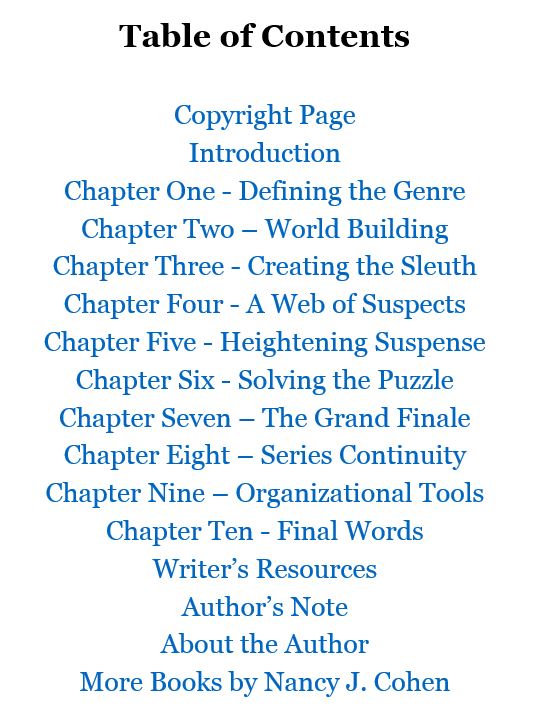 You start by building the world of the story, which makes sense. The cast of interesting characters are as important as the sleuth him/herself. And over time, the sleuth and other cast members will go through all the usual ups and downs of life.
The chaper on building suspense was useful, and honestly tgere are lots of good hints for any sort of suspenseful writing in this book.
Throughout this book are exercises to help you create the cast of characters and make decisions about the clues and setting. I like that very much. When I'm ready to write my cozy, this will be a terrific tool set to use.
I gave Writing the Cozy Mystery a 5 star Amazon review.
This book will start you off right if you're writing a cozy.
Get your copy of Writing the Cozy Mystery on Amazon now.
Follow  your BLISS,
Ronda Del Boccio, the Story Lady
#1 best selling author, speaker and Amazon Top Reviewer