Book Review of Romance Suspense Vanished (Callahan and McLane Book 1) by Kendra Elliot
elcome back to another Write On Purpose book review. Each week, I review a well-written book, highlighting what makes it good from the reader's perspective and what writing skills and techniques make it an irresistible read. Thus, each review serves both writers and readers.
I happen to love suspenseful books, both reading and writing them. I don't mind a bit of romance, so long as the story is focused on the suspense. I read and decided to review it for you.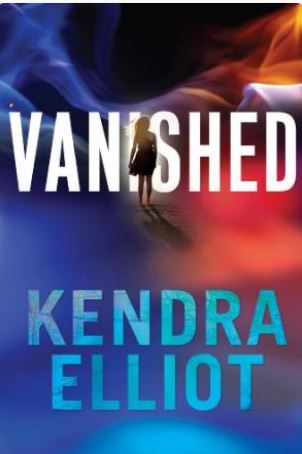 When an eleven-year-old is abducted on her way to school, the FBI doesn't waste a moment, sending agents to scour the area and embedding Special Agent Ava McLane with the distraught family. In the eye of the storm is local detective Mason Callahan, whose life is crumbling to pieces—he's related to the victim, and his longtime confidential informant has just been murdered.

Both he and Agent McLane hole up in the victim's family home. Every second counts in a kidnapping case, and the stakes keep rising the longer the girl is missing. As Ava and Mason struggle to hold the family together in their darkest hour, the two investigators find themselves drawn to each other.
Did this book work for me and keep me enthralled?Absolutely yes! I gave the book a 5 star review
An Exciting Problem
The book opens with the death of a hooker, which seems for a while to have nothing to do with anything, but it does indeed. The core challenge for the protagonists to overcome involves the disappearance of the girl just before Christmas.
You'll be reading for a while before you have a clue about who is behind the abduction and what the motive is. I like that in a book. Family members in distress and investigators struggling to find the girl populate the world of this novel.
 Interesting Characters with Weaknesses
I get so annoyed when I read abook in which the characters are superb in all things and have no flaws. And while Ava and Mason are both skilled at their jobs, she an FBI agent and he a cop, they have their problems too.
Ava McLane has a deadbeat sister named Jane, and she's afraid to become her. She has trouble with men who can't handle a highly skilled woman. Oh, how I know that pain!
Mason Callahan is great t his job but shuts people out, because he thinks his problems are his burdens alone. It cost him his marriage and makes it difficult to acknowledge that his college aged son Jake is becoming an adult.
The "blended" family at the heart of the tale includes one mom who bakes when stressed and a dad/stepdad who manages not to shoot eye daggers at the first husband, Mason, Jake's dad.
The dog is great. I love dogs. Slight spoiler alert for animal lovers, just so you won't worry. I'm not giving away any major plot elements, but let me assure you that when that thing happens to the dog, he's OK. I'm one of those people who gets more upset about animals getting into trouble at the hads of humans than I do by humans suffering the same fate.
So often in romances and books that are primarily some other genre with romantic elements, the couple initially hate each other or have deep conflict. Not so with Vanished.  Sparks grow in more the way life often goes, with a seemingly chance encounter and repeated exposure as the two get to know each other….
Mounting Suspense
Elliot does a great job building the suspense while giving insight into the investigation. I'm so happy the book is more about the people than the mechanics. Those investigation details provide reality without taking over. Too many authors must want to show off their research by writing what reads more like a technical manual than a novel.
I hope you enjoy the book as I did.
About Kendra Elliot
Kendra Elliot won the 2014 Daphne du Maurier award for best Romantic Suspense for BURIED, which was also an International Thriller Writers' finalist for Best Paperback Original and a Romantic Times finalist for best Romantic Suspense. She grew up in the lush Pacific Northwest and still lives there with her husband, three daughters, two cats, and a Pomeranian. She's always been fascinated with forensics, refuses to eat anything green, and loves a strong Mai Tai on the beach on Kauai. Visit Kendra at kendraelliot.com
Amazon's Author Kendra Elliot Page
Please share this review all over the social web!
Follow your B.L.I.S.S.
Ronda Del Boccio
#1 best selling author, speaker, and Amazon Top Reviewer
About Ronda Del Boccio
Ronda Del Boccio is an award-winning and best
selling author of both fiction and nonfiction. She tells transformational tales and helps visionary authors turn their dreams and imaginings into published books. See and order Ronda's books on Amazon.
Join Ronda's readers for free stories, sneak peeks at her next books and more at WriteOnPUrpose.com/read