Book Review of Historical Fiction Novel The Red Kimono by Jan Morrill
Welcome back to another Write On Purpose book review. Each week, I review a well-written book, highlighting what makes it good from the reader's perspective and what writing skills and techniques make it an irresistible read. Thus, each review serves both writers and readers.
Author Jan Morrill's first novel weaves great storytelling, thorough research, and her mother's experiences in a Japanese internment camp during World War II into this novel about the power of hatred and perception.
Read more about the book.
The Red Kimono by Jan Morrill
From the Inside Flap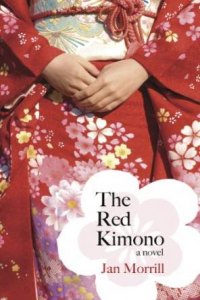 In 1941, racial tensions are rising in the California community where nineyear-old Sachiko Kimura and her seventeen-year-old brother, Nobu, live. Japan has attacked Pearl Harbor, people are angry, and one night, Sachiko and Nobu witness three teenage boys taunting and beating their father in the park. Sachiko especially remembers Terrence Harris, the boy with dark skin and hazel eyes, and Nobu cannot believe the boys capable of such violence toward his father are actually his friends. What Sachiko and Nobu do not know is that Terrence's family had received a telegram that morning with news that Terrence's father was killed at Pearl Harbor. Desperate to escape his pain, Terrence rushes from his home and runs into two high-school friends who convince him to find a Japanese man and get revenge. They do not know the man they attacked is Sachiko and Nobu's father. In the months that follow, Terrence is convicted of his crime and Sachiko and Nobu are sent to an internment camp in Arkansas, a fictionalized version of the two camps that actually existed in Arkansas during the war. While behind bars and barbed wire, each of the three young people will go through dramatic changes. One will learn acceptance. One will remain imprisoned by resentment, and one will seek a path to forgiveness.
From the Back Cover
"The story of a Japanese family uprooted and forced to live in a bleak World War II internment camp gives human faces to one of the shabbiest chapters in U.S. history. Told from the viewpoint of an engaging Japanese girl, The Red Kimono tells it all–the bitterness and pain as well as the joy and pride and patriotism of a people too resilient to be beaten by racism. The Red Kimono touches my heart."–Sandra Dallas, New York Times best-selling author of Tallgrass and True Sisters
"A slice of American history beautifully told by three young Americans coming of age in a turbulent time." — Jodi Thomas, New York Times best-selling author of the Harmony Series.
"The attack on Pearl Harbor sets in motion this incredible story of a race of people betrayed by their country. Only a writer with Morrill's talent could tell it with so much compassion and honesty. You won't soon forget The Red Kimono." — Velda Brotherton, Author of The Boston Mountains: Lost in the Ozarks
Why was this book so good I gave it a 5 star review on Amazon?
Interesting, Well Drawn Characters
Morrill is a master o character development. She has a knack for getting inside someone's head so the reader feels the world through their perceptions. She is one of the best authors for this, so if you are an author and feel your characters are flat, be sure to read this book and study it.
Some authors are good at adults but not children when it comes from a point of view character. Not so here. young Sachi reads as true as her older brother Nobu and Terrence, the other characters who take turns sharing the storytelling role.
The Power of Hatred
Morrill combines her mother's experiences living in an internment camp in Word War II with thorough research and fictional elements to create a captivating book about the power of hatred in a way that does not stoop into being preachy..
I can't speak for anyone else with regard to what you learned in history classes, but I can tell you I gained far more insight by reading this book than I did from the scant nod to this part of history learned in class.
School children need to read this book. I believe a book like this would bring history to life for students. I wish it were part of the curriculum.
We are in a world in which groups of people are being labeled the enemy simply because they are different from mainstream culture. Do people not see that we're going down a dark path once again?
Truthful Yet Hopeful
While taking the reader into the lives of people whose loyalties, families, and personal strength were tested daily, this book ends on a hopeful note. Like most people, I happen to like that in a novel.
University Press Published
It says a lot about he quality of a book when a University press publishes it. University of Arkansas brought this book into the world.
Why they saw fit to charge an astronomical $21.08 for the Kindle version, which involves NO hard printing costs, is beyond me. I bet they have sold a total of ZERO copies at that engorged price. They need to consider that most novels are going for $.99, $3.99 and $2.99.
Buy the Red Kimono
Order on Amazon – and since the Kindle version is so pricey, you ay prefer to buy the hard cover, but DO get this book!.
 Jan Morrill's debut novel, THE RED KIMONO, was released by the University of Arkansas Press in February, 2013.
Jan was born and (mostly) raised in California. Her mother, a Buddhist Japanese American, was an internee during World War II. Her father, a Southern Baptist redhead of Irish descent, retired from the Air Force. The Red Kimono, as well as many of her short stories, reflects memories of growing up in a multicultural, multi-religious, multi-political environment.
Her award-winning short stories and memoir essays have been published in Chicken Soup for the Soul books and several anthologies. An artist as well as a writer, she is currently working on the sequel to The Red Kimono.
For more information, visit her website at .janmorrill.com or her blogs www.TheRedKimono.com or HaikubyHaiku.wordpress.com.
Connect with Jan Morrill
Please share this review all over the social web!
Follow your B.L.I.S.S.
Ronda Del Boccio
#1 best selling author, speaker, and Amazon Top Reviewer
Read More Book Reviews by Ronda Del Boccio
Looking for more book reviews? I share insights on books in most genres. See them all in the Book Review Category
About Ronda Del Boccio
Ronda Del Boccio is an award-winning and best
selling author of both fiction and nonfiction. She tells transformational tales and helps visionary authors turn their dreams and imaginings into published books. See and order Ronda's books on Amazon.
Join Ronda's readers for free stories, sneak peeks at her next books and more at WriteOnPUrpose.com/read
[mc4wp_form]
If you are an author
Want your book reviewed?