Book Review for Authors: Using Twitter for Business by Paul Teague
Starting now, each month on the last Thursday I'll do a review of a book of value and interest to authors.
Do you use Twitter?
Do you like it?  Does it drive you nuts?
At my last live event, several authors came up and said one of these things regarding Twitter:
"It's so stupid."
"It's a waste of time."
"I just don't get it."
"I don't understand why it's important."
Readers of many genres are on Twitter looking for their next good read. you want to be there too. But like anything else, there's a learning curve. There are los of ways to NOT have Twitter work well for you.
Twitter, as Paul Teague points out in his book Using Twitter for Business, is a valuable piece of web real estate. That doesn't mean yui need to spend hours and days messing with it, though.
It really helps if you can have someone show you the ropes, as they say, without you having to fumble around. Is this book a guide I would recommend?
My Book Review  of Using Twitter for Business by Paul Teague
I gave Twitter for Business from the Stuff Made Simple series 5 stars on Amazon.
Well Organized
Before you even get into the table of contents, there's a section I recommend all authors include in your nonfiction: How this book will help you. That means if you read this section, you gain insight into how best to apply what you learn.
The chapters walk you through everything, from setting up your account to adding the header and profile image to optimizing your profile for search engines to actual tweeting.
Each chapter takes it a bite at a time. Teague does a great job chunking it down and making it, as the series name implies, simple. Twitter for Business is book for in the Stuff Made Simple Series.
I've been on Twitter for years, and I learned about a newer feature that was news to me. Yay.
If you're baffled by Twitter, by all means grab this book and work your way through each chapter. You'll be on top of it in no time.
Buy using Twitter for Business
About Paul Teague in his own words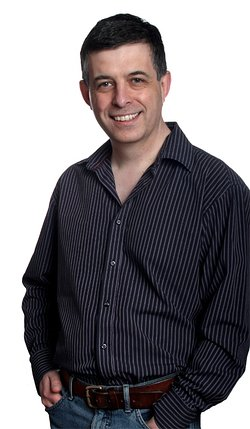 Hi, I'm Paul Teague, the author of the 'Stuff Made Simple' online guides.
I'm a former broadcaster and journalist with the BBC, but the latter part of my career took me into web sites and the wonderful world of online.
With my team, I built and managed a new BBC web site and won two international web awards, a Webby in 2006 and a W3 award in 2009.
Although I've been working online since 2001, it was in 2010 that I finally left the BBC to pursue my own interests, launching numerous digital products, a successful Facebook software and training hundreds of webinar attendees across the globe via coaching sessions and online membership groups.
These days I am concentrating on my writing activities, though I also do a lot of coaching work with businesses, teaching them about WordPress, Facebook, LinkedIn, Google+, Twitter and many more web based topics.
My Digital and Creative Marketing blog can be found at PAULtEAGUE.COM
I write my web guides under the author name P Teague.
I also write fiction under my full name, Paul Teague: Visit my fiction site.
I am the author of The Secret Bunker Trilogy, a dystopian/sci-fi adventure featuring Dan Tracy.
Connect with Author Paul Teague
I hope this book review serves you well.
Follow your BLISS,
#1 best selling nonfiction and fiction author, speaker and mentor