Book Review of Western Historical Romance the Montana Gallagher Collection by MK McClintock
Welcome back to another Write On Purpose book review. Each week, I review a well-written book, highlighting what makes it good (or not so good) from the reader's perspective and what writing skills and techniques make it an irresistible (or annoying) read. Thus, each review serves both writers and readers.
This review is a mixed bag. The series is the Montana Gallaghers historical fiction series by MK McClintock.
First I need to say I have immense respect for anyone who follows through from concept to completion of a novel or a series. As a novelist myself, I can attest to how much work it takes.
I enjoyed aspects of the first book, and others annoyed me immensely. And while I typically only review books I like a lot, I'm making an exception.
"I could never immerse myself in the Montana Gallagher series, because so many things about the writing distracted me."
– Ronda Del Boccio, amazon top reviewer
I give this series 3 stars. Here's more about the Montana Gallagher Collection. I like historical fiction, and I really wanted to be enthralled with this series, but alas, it was not to be.The Montana Gallagher Collection
Escape to the old west with three classic novels of family, adventure, and love from the Montana Gallagher collection.

"The Montana Gallagher Collection is adventurous and romantic with scenes that transport you into the wild west." – InD'Tale Magazine

GALLAGHER'S PRIDE

Adventure, danger, and timeless love–Gallagher's Pride is the first in a series about a frontier family's legacy, healing old wounds, and fighting for the land they love.

Brenna Cameron travels from Scotland after losing someone she loves in search of family she didn't know existed. Alone now in the world, Brenna makes an arduous journey, following the trail of discovery to Briarwood, Montana. Here she meets Ethan Gallagher, and the rest of the Gallagher clan. Only with their help is she able to discover lost family, heal old wounds and embark on a treacherous confrontation with a man who destroyed her family.

GALLAGHER'S HOPE

Return to the beloved town of Briarwood with this frontier romance about second chances and finding love in the face of overwhelming odds.

Isabelle Rousseau must escape New Orleans and the memory of her family's tragic loss. With her younger brother in tow, she accepts a position as the new schoolteacher in Briarwood, Montana. Desperate to keep what's left of her family together, Isabelle joins her life with a stranger only to discover that trust and hope go hand in hand.

GALLAGHER'S CHOICE

Somewhere between the rugged mountains and open plains on the Montana frontier, the Gallaghers struggle to find peace, hope, and love on a wild land.

Eliza Gallagher is tough, resilient, and rides a horse like she was born in the saddle. All necessary qualities for someone who runs a cattle ranch. She had more to avenge than any of them and she was counting on those skills to finally find the justice they all sought — until she realized it could cost her everything and everyone she loved.

Ramsey Hunter finally knew what it was to have a family and what it took to keep that family together. He knew coming back wouldn't be easy, but he never imagined what he would have to risk to keep it. Eliza got him home; now Ramsey has to do whatever it takes to save her life and help bring peace to Hawk's Peak.

One man could not destroy them. Another could not tear them apart. They fought for their family, their love, and their legacy . . . and they survived.

Sexual Content Rating: Subtle / Clean Romance (with subtle language suited to westerns)

Genre: Historical Western Romance/Western
 What worked for me?
Compelling Characers
I love epics and family sagas. I read The Thornbirds as a kid and have read numerous fantasy series, one of them encompassing 12 books, so I'm not at all opposed to an extended family saga.
McClintock creates interesting characters with engaging back stories (histories). I find her population works in its context.
Terrific Sense of Place
MCClintock does a brilliant job making you feel the wind blowing and otherwise feeling a part of the scene.
What doesn't work for me?
Head Hopping
"Head hopping" means jumping from one character's head or thoughts to another's in the same scene. It is the sort of thing any writing instructor or seasoned writer will tell you not to do as a writer.
Beyond the "it simply isn't done" factor, and more importantly to me, it drives me absolutely out of my mind nuts!
For example, the reader is with Brenna as she disembarks the train in Montana. We're inside her head. Then POOF, there's a man and we're inside his head.
AAAAAAAARRRRRRRGGGGGGGHHHHHHH! (insert image of Lucy pulling the football away so that Charlie Brown goes spinning and yelling ARRRGH).
If I hadn't been reading on an iPad, I would have thrown the book against the wall to hear a satisfying THUD.
Head hopping detracts from the story, because the reader is bouncing around from head to head.
Lack of Research
Maybe it's because some of my friends/mentors are among the top western and historical writers, but I'm super sensitive to wolly history.
I don't get the sense McClintock knows much about horses. THer are lots of places throughout the series that simply don't read true.
Same thing for history. Now, I don't write historical fiction and wouldn't unless I thoroughly researched everything from the clothing to customs to foods to language.
The dialogue doesn't quite ring true. Cultured gentlemen cuss in the presence of ladies. THis sort of thing would not have been tolerated back in the day.
I could never immerse myself because so many things about the writing distracted me.
About MK McClintock
MK McClintock is an author, entrepreneur, and photographer. She spins tales of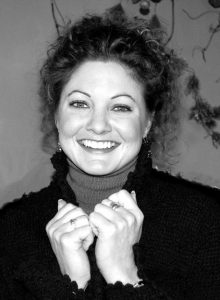 romance and adventure inspired by the heather-covered hills of Scotland and the majestic mountains of home. With her heart deeply rooted in the past and her mind always on adventure, she lives and writes in Montana.
Learn more about MK by visiting her website and blog  at mkmcclintock.com.
Connect with Author MK McClintock
Disclosure: I received a free copy of the series in exchange through the Tomoson's service for an honest review.
Please share this review all over the social web!
Follow your B.L.I.S.S.
Ronda Del Boccio
#1 best selling author, speaker, and Amazon Top Reviewer
Read More Book Reviews by Ronda Del Boccio
Looking for more book reviews? I share insights on books in most genres. See them all in the Book Review Category
About Ronda Del Boccio
Ronda Del Boccio is an award-winning and best
selling author of both fiction and nonfiction. She tells transformational tales and helps visionary authors turn their dreams and imaginings into published books. See and order Ronda's books on Amazon.
Join Ronda's readers for free stories, sneak peeks at her next books and more at WriteOnPUrpose.com/read
[mc4wp_form]
If you are an author
Want your book reviewed?