Book Review of Spy Thriller Historical Romance Alaina Claiborne by MK McClintock
Welcome back to another Write On Purpose book review. Each week, I review a well-written book, highlighting what makes it good from the reader's perspective and what writing skills and techniques make it an irresistible read. Thus, each review serves both writers and readers.
This week, it's a historical romance spy thriller called Alaina Claiborne by MK McClintock.
This book contains all the sizzle  of a good spy thriller and all the spark of a hisgtorical romance. Some aspects of the book I liked very much. Others annoyed me. How did I rate this book?
Slow or Sizzling Start?
Some books instantly grab your attention and won't let go. Others are good enough to keep reading but not arresting at the start.  Like a Disney movie, this book began with…well, a tragedy involving Alaina's parents when she was young.
This book fell into the latter category for me. A few things at the start annoyed me, and it was hard to get into the book.
Frankly, I would not have put backstory at the beginning of this novel. I would rather get to know Alaina as she interacts in the story and then find out how the early trauma affects her decisions.
What made it a slower start for me was the combination of early backstory and head hopping.
Head Hopping
Before I get into this bit, I want to say that fortunately the author doesn't hop  heads through the whole book. Just in a couple of parts.
"Head hopping" is when an author jumps from one character's head to another in the same scene. It's one of the things "they" always tell newbie authors not to do. Rebel though I am, I happen to find it irritating. I like to go deeper into one mind at a time rather than jumping around.
I've been enjoying books with deep point of view lately, and this book is not. Go figure, a it's a thriller. Deep Point of View means going super deep into a character's motivations and thoughts, not just the surface ponderings. While it is possible to go deep and still have an action book, this book didn't. That's OK. I like depth.
Gorgeous, Talented Heroes
Typical of both romances and thrillers, both the heroes are extraordinary people and stunning physical specimens. WHile this personally tends to drive me nuts, it is common. Fortunately, Alaina Claiborne has a couple of things going on that give her flaws.
She suffers PTS (post traumatic stress) from the thing that happens in Chapter 1. when a similar situation arises later, she is catatonic.  McClintock did a great job handling the trauma and resulting stress.
 Lots of Chases, Intrigue and Secrets
You have in Tristan a super-spy of a bygone era. There are lots of chases, especially considering Alaina's multiple kidnappings. I thought McClintock handled the action scenes well. Tristan and Alaina are both interesting characters with some substance, so I cared what happened.
WHy Alaina is being chased and kidnapped and why Tristan cares come to light amidst all sorts of secrets and lies.
Not Quite Brain Candy & Not Quite Deep
Overall, I enjoyed this book enough to give it 4 stars on Amazon. Read my Amazon review. Not as shallow as something lie the Stephanie Plum novels and not as deep as some of my favorite authors, but definitely fun, engaging and worth my time.
Description of Alaina Claiborne
Be swept away by the stirring romance and unforgettable adventure of Alaina Claiborne, MK McClintock's first British Agent novel.

Book One of the British Agent Novels
Alaina Claiborne

How far would you go to avenge your family and save the one you love?

In nineteenth-century England, Alaina Claiborne had a loving family, a cherished friend, and devoted servants. She spent her days riding across the grassy hills of the English countryside, joyful and at peace.

Then tragedy strikes and her world is forever changed. Searching for those responsible is her only focus . . . until she meets Tristan.

Tristan Sheffield, a man of many talents, searches out those who don't want to be found. His past is filled with secrets and deeds he would rather leave deeply buried. However, when his life unexpectedly entwines with Alaina's, he soon discovers they share more than a mutual desire to catch a murderer.

On their hunt for a man driven by greed, Tristan and Alaina find that love is the greatest weapon against evil, and they'll stop at nothing to survive.

Experience romance, adventure, and mystery with the British Agents in Victorian England.

The British Agent Historical Romantic Mystery Series (stand-alone titles):

Book Two – Blackwood Crossing
Book Three – Clayton's Honor (Coming April 2015)
Setting: Victorian England, Sensuality Rating: PG-13
Buy the Book
buy Alaina Claiborne on Amazon
About MK MCClintock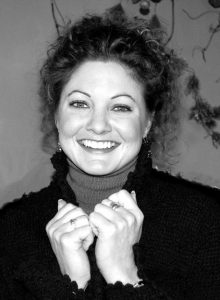 MK McClintock is an author, entrepreneur, and photographer. She spins tales of romance and adventure inspired by the heather-covered hills of Scotland and the majestic mountains of home. With her heart deeply rooted in the past and her mind always on adventure, she lives and writes in Montana.
Learn more about MK by visiting her website and blog  at mkmcclintock.com.
Connect with Author MK McClintock
Disclosure: I received a free copy of this book through Tomoson's
in exchange for an honest review.
Please share this review all over the social web!
Follow your B.L.I.S.S.
Ronda Del Boccio
#1 best selling author, speaker, and Amazon Top Reviewer
Read More Book Reviews by Ronda Del Boccio
Looking for more book reviews? I share insights on books in most genres. See them all in the Book Review Category
About Ronda Del Boccio
Ronda Del Boccio is an award-winning and best
selling author of both fiction and nonfiction. She tells transformational tales and helps visionary authors turn their dreams and imaginings into published books. See and order Ronda's books on Amazon.
Join Ronda's readers for free stories, sneak peeks at her next books and more at WriteOnPUrpose.com/read
If you are an author
Want your book reviewed?