Book Review of Thriller The Geneva Decision by Seeley James
Welcome back to another Write On Purpose book review. Each week, I review a well-written book, highlighting what makes it good from the reader's perspective and what writing skills and techniques make it an irresistible book. Thus, each review serves both writers and readers.
This week's excellent read is The Geneva Decision by Seeley James, a thriller about an athlete embarking on a new and dangerous lifestyle.
Like any good thriller, the lead character Pia Sabel is both flawed and larger-than-life in equal measure. That's part of what makes thrillers exciting to those who enjoy them.
Read the book description of The Geneva Decision on Amazon
Pia Sabel plays to win.

Until a few weeks ago, she was an international soccer star. But now she's taken the helm of her billionaire father's private security company, and she's playing against a whole new set of opponents – the kind who shoot to kill.

On her first day on the job, Pia's client is assassinated in front of her. There's no time for training, so Pia must trust her instincts and athletic skills to unravel the complicated maze of money laundering and piracy that will take her from Swiss mansions to the jungles of Cameroon.

Her battle-hardened employees suspect she's just a spoiled rich girl with a mean corner kick. But Pia's got some unexpected moves of her own. Will they be enough to bring her team through its mission?
Author Seeley James said he created Pia Sabel to be the kind of hero his kids and readers wanted to read.
The thing to remember about the thriller genre is that you can't expect the hero to be 100% realistic. If she were, you'd be reading mainstream or some other genre. The protagonist of a thriller is a mix of imperfect and superlative.
Pia Sabel comes to be the owner/operator of a security company after the untimely death of her father.
On the plus side, she comes to the table with athletic skills as a soccer star and one trained in certain combat skills. This gives her physical abilities determination and a fighting spirit.
On the minus side, she is thrown into a totally new position in a male-dominated field. Many of the formerly tight team leave, not wanting to be under the direction of a rookie raised by billionaires. Pia makes plenty of rookie mistakes, many costly, as she tries to settle into her new role.
Thriller Protagonists
The hero of a thriller is typically larger than life. That's a convention of the genre. So what a reader expects and desires in a story such as this is a lead character who is as fallible as anyone but with a quality or ability that stretches the bounds of believability.
Someone who wants a 100% realistic character is looking for mysteries or true crime books. Think Sue Grafton's Kinsey Millhone ABC murder series or CSI.
Thrillers are ideal for people fantasize about being a superhero or having a special power that makes them exceptional. They're full of action, overcoming impossible odds, and a main character who is special in at least one way.
Transferrable Skills
I can remember learning about transferrable skills when I was in high school. How can you take a skill you use in situation A and apply it to situation B?
Thrown into the deep end of her father's elite security company, Pia uses transferrable skills from soccer, including head-butts, kicking, and the must-win attitude of a champion.
Thrown into a Whole New World
Good stories, thriller or otherwise, typically throw the main character into a whole new world. The reader gets to experience their flounderings, difficult encounters with other characters who try to block their way, and the whole road of trials that makes for good reading.
While Pia learned some self protection skills and has physical strength, she knows nothing about running a company, least of all her father's. People who do not believe in her and feel she was the worst possible choice for taking over the company surround her.
Minor Character Dimension
The one area where I believe t his book could use some improvement is in the minor characters. Pia is obviously so real to the author, and I wish the minor players had more dimension.
From a writing skills perspective, it's actually not that difficult to make even a character who appears in one or two scenes come to life.
No huge profile required. All it takes is giving a unique habit, quality or peculiarity that makes that character pop off the page.
Thrillers need Thrills
The Geneva Decision  has thrills in plenty. Lots of action scenes, lethal situations, and impossible odds to overcome make this story exciting. This is exactly what I would expect in a good thriller, and Seeley James delivers!
I'm about to read the second book in the series.
Get the Book
Buy The Geneva Decision on Amazon
Buy book 2, Bring It on Amazon
About the Author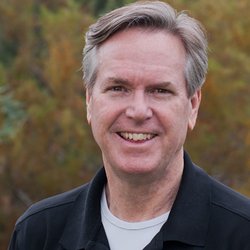 Seeley James is the author of the Pia Sabel series of thriller short stories and novels. He was first published in The Battered Suitcase and Short Thrills, was a Finalist for DeMarini Award in fiction, and was short listed for the Fish Publishing Award and the Debut Dagger Award.
He discovered his love of creativity at an early age, growing up at Frank Lloyd Wright's School of Architecture in Arizona and Wisconsin. He carried his imagination first into a successful career in advertising and marketing, and then to his real love: fiction.
He created Pia Sabel to be the kind of character that his friends and children would want to read. James has three children; he adopted his first, a precocious and beautiful three-year-old girl, when he was a single nineteen year old. Twenty years later he married, and he and his wife have two more children. They live in Scottsdale, Arizona, and enjoy youth soccer games and sunshine.
Connect with Seeley James
I hope this book review has served you well!
Read More Book Reviews by Ronda Del Boccio
Looking for more book reviews? I share insights on books in most genres. See them all in the Book Review Category
About Ronda Del Boccio
Ronda Del Boccio is an award-winning and best
selling author of both fiction and nonfiction. She tells transformational tales and helps visionary authors turn their dreams and imaginings into published books. See and order Ronda's books on Amazon.
Join Ronda's readers for free stories, sneak peeks at her next books and more at WriteOnPUrpose.com/read
[mc4wp_form]
Please share this review all over the social web!
Follow your B.L.I.S.S.
Ronda Del Boccio
#1 best selling author, speaker, and Amazon Top Reviewer
PS Want to republish this review?
I am delighted for you to repost this review on your blog or website. You are most welcome to republish this review following standards established by best practice and copyright law. This is true of any blog post, by the way.
Here are the guidelines that help you play nicely and give credit where it is due.
You must use the permalink for the specific post, which is the direct article link, also called the original article source.
You must include my byline and author information, or I shall come after you
Following these guidelines helps my website traffic as well as yours. Thank you for playing nicely.
If you are an author
Want your book reviewed?
If you are an author or publisher desiring a review, here is everything you need to know:
Each Tuesday, read a book review on WriteOnPUrpose.com. I delve deeper in these than I do for what I post on Amazon
Focusing on what makes a good read, these reviews benefit authors and readers alike. Each contains helpful hints to help authors make their books more compelling.
Before posting here, I first write a review on Amazon, and I am an Amazon Top Reviewer; read my reviews at WriteOnPurpose.com/reviews.
If you are an author or publisher wanting a book review, go to my Review Request Page at WriteOnPurpose.com/reviewrequest and complete the form.