Book Review and Excerpt of Paranormal Romance Thriller Glory: The Legend of Glory Book 1 by Devin O'Branagan
Welcome back to another Write On Purpose book review. Each week I review a well-written book, highlighting what makes it good from the reader's perspective and what writing skills and techniques make it an irresistible read.Thus, each review serves both writers and readers.
This week's excellent read is Glory:  The Legend of Blory, Book 1 by #1 best selling author Devin O'Branagan.
I've known #1 best selling author Devin O'Branagan since I helped her with the first book launch of GLory. Now, she is talking with a producer about turning the book into a movie or TV program. I hope that comes true, because Glory is an excellent book.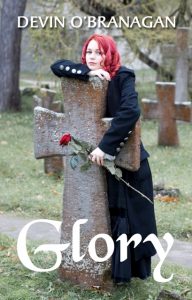 This is a story about a teenager who rises to meet incredible challenges. Her helpers include a fabulous dog, an angel and a vampire. It is the first of a trilogy, and I have read and reviewed them all.
Starting The Story Where The Change Happens
No matter what genre you write, it's important to start where the change begins. Ruminating over tea doesn't cut it these days. Glory begins powerfully, with the impending death of Glory's father.
A pandemic is sweeping the country, and Glory's blood has the antidote, but not only the "good guys" are after it.. Here is the Glory book trailer video:
Amp up the Story with Internal and External Conflict
Conflict makes a story interesting. After all, if nothing happens, you don't have a novel. There are two kinds of conflict that make for a good book. Both are important. This trilogy has them both in roughly equal measure.
External conflict
External conflict refers to those elements outside the point of view character. these challenges come from outside the person and include the major plot hurdles for the story. in Glory,  our hero deals with the nasty bug and with people who are after her because of her uniqueness.
Internal conflict
Internal conflict comes from a character struggling with her emotions and actions. Glory's struggles include losing her father to the pandemic and the feelings she develops for her vampire and angel guardians.
The internal landscape is what distinguishes one book from another. Many would argue that there are perhaps only 30 or 50 plots around love, revenge, achievement and the like..
It's how the point of view character(s) handling their challenges, their road of trials, that distinguish a book. The character-against-world themes are similar. How a hero interacts with her world sets a story apart from the rest.
That's why I say the internal conflict makes a book even more than the more obvious plot elements, such as in this case the pandemic, good and evil beings, and the scientists.
While this is a young adult tale with a 17-year-old hero, it is a good read for adults as well.
A Curvaceous Protagonist
I LOVE books with a strong female character who's curvy, not twiggy. I'm writing one like that just now myself. Here's how Glory reacts when she hears a policeman tell a friend they're looking for a girl about her age but "much heavier":
I bristled. I wasn't heavy. I was–as dad had described me–voluptuous : chesty, hippy, and curvaceous, but most certainly not fat.
Yay! Having so often been shamed for my size, I can appreciate a character being proud of her curves. I'm so sick of movies and TV shows glorifying women who could blow away if you sneeze on them.
Wits Win
While there are numerous supernatural elements and beings, both helping and detracting from Glory and her mission to save the world, there is no savior. No rescuer. She must rely on her own wits and strength. This is an element that improves any story, and I like the way O'Branagan handles the balance.
Glory Book Excerpt:
I floated and it felt good. It was warm and bright and I was at peace.

Dominic appeared. "Don't go," he said.

I looked down at my body lying in a soggy ditch in a pool of blood. "I don't have a choice anymore."

"I'm here now. I can help if you want me to."

I didn't want him to. The world and all its misery had lost its allure. I was done.

He knew what I was feeling and I could feel him too. It was shockingly intimate. He yearned for me to want to return; he needed me to be noble.

"I'm not your salvation," I said.

I felt his disappointment. He wanted to love humanity for his father's sake, and I was conscious of his regret at not being able to. I felt his remorse for having failed me, his tenderness for me, and how that new emotion surprised him. I wanted to comfort him and take away his pain. He sensed my affection for him and was moved by it. Our empathic connection was exquisite.

I realized that what we shared at that moment was what everybody longed for—the merging of bodies was a poor imitation of the merging of hearts.

Suddenly, I wanted to do whatever it took to relieve his suffering and the suffering of all those who could benefit from my blood. In that moment, I suffered the pain of all creation. I needed to heal it.

My translucent hand reached for him. "Take me home."

He didn't ask which home I meant. His heart knew.
I hope you'll get your copy of the whole trilogy.
About #1 Best Selling Author Devin O'Branagan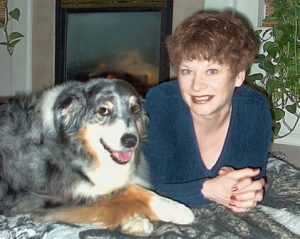 Bestselling author Devin O'Branagan writes novels about uncommon heroes. Her genres include young adult urban fantasy, paranormal romance, paranormal thrillers, and romantic comedy. She's been published by Simon & Schuster's Pocket Books, German publisher Heyne Verlag, Turkish publisher Dogan Egmont, and indie publisher Cornucopia Creations. Her books are available in print, eBook, and audio book formats.
Connect with Devin
Buy Glory: The Legend of Glory, Book 1
About Ronda Del Boccio
Ronda Del Boccio is an award-winning and best selling author of both fiction and nonfiction. She tells transformational tales and helps visionary authors turn their dreams and imaginings into published books. See and order Ronda's books on Amazon.
Join Ronda's readers for free stories, sneak peeks at her next books and more at WriteOnPUrpose.com/read
[mc4wp_form]
Please share this review all over the social web!
Follow your B.L.I.S.S.
Ronda Del Boccio
#1 best selling author, speaker, and Amazon Top Reviewer
PS
Want to republish this review?
I am delighted for you to repost this review on your blog or website. You are most welcome to republish this review following standards established by best practice and copyright law. This is true of any blog post, by the way.
Here are the guidelines that help you play nicely and give credit where it is due.
•You must use the permalink for the specific post, which is the direct article link, also called  the original article source.
You must include my byline and author information, or I shall come after you
Following these guidelines helps my website traffic as well as yours. Thank you for playing nicely.
If you are an author
Want your book reviewed?
If you are an author or publisher desiring a review, here is everything you need to know:
Each Tuesday, read a book review on WriteOnPUrpose.com. I delve deeper in these than I do for what I post on Amazon
Focusing on what makes a good read, these reviews benefit authors and readers alike. Each contains helpful hints to help authors make their books more compelling.
Before posting here, I first write a review on Amazon, and I am an Amazon Top Reviewer; read my reviews at WriteOnPurpose.com/reviews.
If you are an author or publisher wanting a book review, go to my Review Request Page at WriteOnPurpose.com/reviewrequest and complete the form.
You will need to provide a digital copy of your book and be willing to accept my honest review or the possibility that I may choose not to review your book at all. My aim is to showcase good writing, and I won't know if your book measures up until I read it.